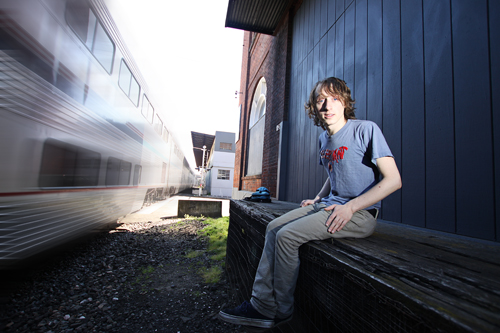 The Sarcastic Dharma Society started out as a dream. Singer-songwriter Mat Vuksinich was on a road trip with Woody Allen when their car broke down. During their trek to the next town, a dramatic archway loomed, inscribed with the fateful words that would follow Vuksinich from his hometown in the foothills of northern California to Portland.
The band was formed in 2003 and has had different lineups over the years, with a lot of collaboration from Padraic Finbar Hagerty-Hammond. Lately, though, SDS has been a one-man show.
Portland has become familiar with Vuksinich's unabashedly frank, lovelorn lyrics and plucky guitar melodies that match his boyish exterior. Some of his solo vocal performances can sound like the innocuous musings of Kermit the Frog, but "3am" from Live at the EchoHouse redeems itself in storytelling and tunefulness: "I know I should be trying to be a man/But I'm too busy trying to think of the saddest thing I can/Like it's probably warm in there/Clean pillows and your freshly shampooed hair."
The majority of songs appeal to the agonizing obsession of teenage love, but in a refreshingly candid and conversational way. "I love that thing where you love somebody, 'cause it's super extreme…It's like, this is the purpose of my life," Vuksinich said. "And you get really interesting conflicts when you know what you want and that thing doesn't want you."
SDS's appearances in public are random at best, ranging from venues like Ella Street Social Club to house parties and gallery openings to the occasional radio spot. Vuksinich is currently working on setting his newer stuff to a four piece band, which, though known for his solo work, is where he shines melodically. His intentions for the project are to be as nonspecific as possible in order to reach as many people as possible—that means no metaphors or songs like journal entries. He says: "It's gotta be honest. You gotta be writing something real, but it also has to communicate."
Listen if you like: Bright Eyes, Wild Sweet Orange.