Campus resources available to students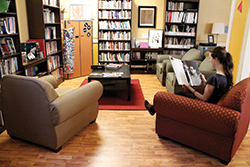 College is tough enough when you're on your own. That's why Portland State has resources to assist you throughout your journey. If it's getting help with writing or academic advising, being exposed to the rich cultural diversity of PSU or getting help when times are tough, these people can help you when it counts most.
Campus Public Safety Office
503-725-4407
Emergency line: 503-725-4404
Shattuck 148
pdx.edu/cpso
The CPSO provides response to emergencies, critical situations and general requests for assistance year-round. The CPSO also provides public education courses and information on campus policy. Laptop owners can download the free FrontDoorSoftware program available through the CPSO website. It features laptop registration as well as a tracking service.
Center for Student Health
and Counseling
503-725-2800
University Center Building
pdx.edu/shac
SHAC provides access to medical, dental and counseling services for PSU students. Students can learn about their PSU insurance plan, refill prescriptions, address almost any health issue and get measles/mumps/rubella shots. SHAC testing services also provide opportunities to take missed classroom exams.
SHAC also sponsors the Let's Talk program which provides easy access to mental health consultations with counselors. Consultations are informal, confidential and available to students curious about what counseling is like, even if they're already seeing a counselor from SHAC. They take place at several times and locations during the week. Visit pdx.edu/shac/lets-talk#confidential for more information.
The ReUse Room
Cramer 180
pdx.edu/planning-sustainability/psu-reuses
The ReUse Room is where students and staff can obtain school supplies for free. Resources are donated by PSU and individual donors. Open Monday through Thursday, 10 a.m. to 4 p.m.
ASPSU Student Food
Pantry and Clothing Closet
SMSU 325
The ASPSU food pantry offers donated nonperishable and canned goods, as well as baby food. It also has limited quantities of certain hygiene items for children and adults. While there is a limit to the number of items one person may take, the service is confidential.
Sharing space with the food pantry, the clothing closet offers gently used clothes and shoes ranging from children's to adult sizes. Donations of gently used clothing and shoes are welcome. Volunteer and donation opportunities are available for both the food pantry and the clothing closet.
Student Legal Services
503-725-4556
Smith Memorial Student Union 343
pdx.edu/sls
SLS provides free legal services to graduate and undergraduate students, including assistance with debtor/creditor law, landlord/tenant laws, employment, personal injury, bankruptcy and family law. They maintain a list of attorneys who will work pro bono or for a low fee. Free notary services available on site. SLS regularly provides workshops on aspects of the law relating to students. Walk-in hours are available.
Advising and Career Services
503-725-4005
University Services Building 402
pdx.edu/uasc
ACS shares space with the Career Center. It provides one-on-one counseling by appointment or during drop-in hours to undergraduate students who have not declared a major. It also provides career counseling to undergraduate and graduate students. ACS/CC conducts regular workshops on resumé-building, writing cover letters, career exploration and job search techniques.
Writing Center
503-725-3570
Cramer 188
writingcenter.pdx.edu<
The Writing Center provides free one-on-one support to undergraduate and graduate students in all stages of the writing process. The center also provides relevant handouts, books and online videos.
Disability Resource Center
503-725-4150
TTY/relay: 503-725-6504
Smith Memorial Student Union 116
drc.pdx.edu
Resources available to disabled students registered with the DRC include note-taking, extended time on examinations, books in different/alternative formats, sign language interpreters and real-time captioning. The DRC also provides access to learning disability and psychological assessments.
Diversity and Multicultural
Student Services
Smith Memorial Student Union 425
503-725-3815
pdx.edu/dmss
DMSS provides general academic advising to first generation and nontraditional students. It maintains connections to all student culture groups and provides information about diversity-related scholarships and cultural centers and organizations.
The TRIO-SSS office is part of DMSS and helps first-generation students in need of academic support. It provide advising, laptop and calculator checkout, tutoring, early registration and free printing. TRIO is still accepting applications.
Queer Resource Center
503-725-9742
Smith Memorial Student Union 458
pdx.edu/queer
The QRC is in a new location this fall and offers a library stocked with queer-specific material. It provides safer sex supplies including condoms, dental dams and more. The QRC also provides an academic success class through University Studies for new and transferring LGBT students. It hosts coming-out panels and Queer 101 training.
The QRC assists with providing transgender health care resources and partners with the Women's Resource Center to provide counseling to survivors of relationship violence.
Veteran's Services
Neuberger 104
pdx.edu/veterans
The VRC serves as a conduit to vital services around campus for PSU's veteran students. The VRC has access to one-on-one financial aid counseling and academic advising and serves in an advocacy role. The VRC also assists in easing veteran students' transition into the PSU academic community and partners with the Women's, Queer and Disability Resource Centers. It also partners with the Viking Vets student group.
Women's Resource Center
503-725-5672
Montgomery Hall basement
pdx.edu/wrc
The WRC is a safe place that welcomes all students. Services include counseling for individuals in abusive interpersonal relationships, an on-call advocate to assist women with legal questions and a library stocked with women's studies literature. It is also an open lounge with space available to student groups upon request. Open Monday through Friday, 9 a.m. to 5 p.m.