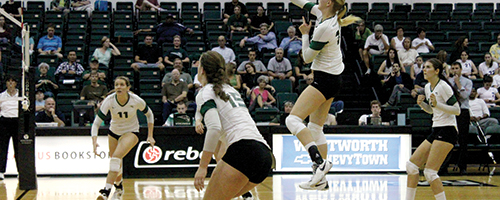 Team prepares for home conference match
Ahead in conference standings, the Portland State women's volleyball team prepares to host its first conference match in the Park Blocks this week. With nearly a full roster of returners, the team's experience is paying off. The Vikings are currently 8-7 overall and 4-0 in conference.
To keep the momentum at home and throughout the season, head coach Michael Seemann said that serving is the key to wins.
The opening two conference matches put the service goal to the test. The Vikings pulled out a first-ever road win against the Sacramento State Hornets. After coming up 2-0 early, the Hornets responded by forcing the match to five. The Vikings will focus on maintaining the serve, a weak point in their game so far.
The Vikings top servers currently are sophomore libero Kasimira "Kasi" Clark, junior outside hitter Kaeli Patton and senior outside hitter Megan Ellis. All three boast more than 10 aces.
Ellis has also dominated the net, along with junior setter Garyn Schlatter and transfer Jaklyn Wheeler.
During the 2011 season, the Vikings opened with more freshmen than returners. The year of experience is paying off.
"The maturity level of everyone has grown," Schlatter said. "We've all been together for a whole year. I think we're, in a sense, ahead because we took off where we left off, as opposed to starting over with a huge new group of people."
The experience has enabled the team to perform at a higher level on the road. In the match against Sacramento State the Vikings stayed focused and closed the final set, which was an example of the maturity level of the team, Seemann said.
"Certainly the experience has definitely paid off being on the road; I think that came out clear this weekend. Both places we played had hostile situations, where the crowd was relatively tough, and I thought we responded really well," Seemann said.
With this level of experience, the team is able to focus on playing the game, which includes the team goal of serving.
"I think we have pretty high expectations for ourselves. We're trying to focus as much on our systems and what we do and what we can control," Schlatter said.
While the experience level has increased for all the players, the team still relies on the leadership of Schlatter and Ellis, two players who have consistently remained key in the Vikings' success. Seemann said he expects the duo to lead by example, whether it is by making the clutch plays or being the force behind other teammates finishing plays.
With Schlatter, Ellis and Wheeler in the front lines, the Vikings will take their serving to the Park Blocks this week. They face Northern Arizona on Thursday at 7 p.m. and Southern Utah on Saturday at 7 p.m. Both matches are at PSU's Stott Center.