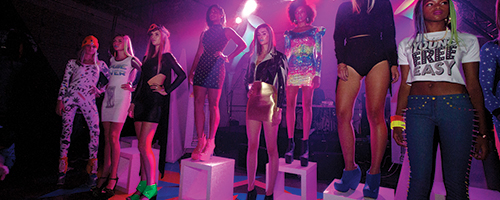 Portland's own Solestruck celebrates its first anniversary
Last weekend, in a smoke-filled warehouse just off Interstate Avenue, Portland-based shoe company Solestruck teamed up with Ladygunn Magazine to ring in the one-year anniversary of its flagship store in Portland.
This one-night, fashion-filled bash felt like a modern interpretation of Studio 54 and was the perfect ending to a three-day celebration dubbed Deja Vu. Consisting of a blowout shoe sale, an art exhibit, a fashion show and live music, Deja Vu was topped off with champagne and must-see designer clothing.
A glamorous crowd clothed in swanky attire gathered to celebrate the event. Plushy drag queens wore heavy makeup and metallic fingernails and dressed in elaborate costumes of leopard-printed ball gowns—a perfect mixture of naughty and nice.
Music played throughout the evening as designers prepped in a frenzy backstage. The event showcased a stream of designers including Brady Lange, Hello Eliza, Degan and New Zealand's Stolen Girlfriends Club. Music included DJ Tah Rei, White Rainbow and Yacht.
Taking center stage on the first floor, models stood stoic as tombstones on white platform boxes lined up, one after another, under the beam of gel lights. Hello Eliza's fun and retro vintage line was one of the first showcased: models were scantily dressed, baring their legs in spandex boy shorts, graphic tees, beanies and sunglasses.
It was all casually sublime. Bold colors seemed to be the hot trend: fitted gold minis, neon green and fluorescent pink platforms were last night's "it" items.
Contemporary women's label Esque by Leslie Pennel followed Hello Eliza, with each model deliberately swaying through the crowd to take her spot on stage. Esque incorporated overtly glamorous garments, including a mocha leather peplum bodice and cool driving gloves. Showcasing lots of bold prints, vertical and horizontal stripes and chic pencil skirts, it was a mix of modernism and prettiness.
Models wore side-parted braids with floral decorations of green leaves and red roses.
Brooklyn designer Lindsay Degen stood backstage and discussed her latest clothing line and how she has managed to stay in the game for three consecutive years. At just 24 years old, Degen has shown at New York Fashion Week and currently collaborates with stores like Solestruck, International Playground and Vfiles. She designs mainly women's wear, and her latest collection is craft-inspired knit wear.
"It's fitted knitted," Degen said. "I had this woman approach me once at a show saying my designs looked totally crafty. I was completely offended but felt motivated to go totally mental with that and create an overtly crafty knit collection. It's a giant explosion of craftiness."
With that motivation she has managed to take artful, homemade garments and turn them into cool, urban street wear. Degen is inspired by today's New York hip-hop movement: You can expect to see a multicolored range of psychedelic Converse platforms in her current collection.
In her previous collections, Degen's designed glitter Popsicle sticks mixed with macaroni necklaces, and is inspired by the do-it-yourself movement that has boomed in the fashion industry over the last couple of years.
On the second floor, an exclusive gallery displayed unique jewelry by Chris Habana, Nettie Kent and Bjorg. Their work was arranged in tiny glass boxes that hung from ropes attached to the ceiling, taking originality to a whole new level. With a minimal gothic appeal, New York designer Habana's collection featured silver and gold metal necklaces with geometric shapes, clean lines and simple chains.
Norwegian-based designer Bjorg managed to make the simple appear elegant. White mannequin hands displayed a set of spine cuffs, gold opal and seductive finger rings and a dagger necklace that looked to be inspired by old Hollywood. Bjorg's designs are timeless and have graced the pages of Vogue Italia, Vogue Paris and Marie Claire.
Having been on the scene for more than a decade, Solestruck shows no signs of slowing down. Collaborating with designers including Black Milk, Jeffrey Campbell, Dr. Martens, Sam Edelman and Senso keeps Solestruck relevant while also attracting a loyal following around the world.