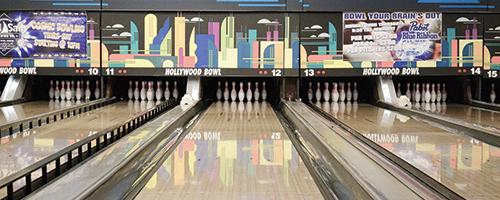 It can be tough being under 21 and living in Portland—a city where beer-drinking is a culture.
However, there are still a number of places where people of any age can go to have a good time.
Bowling
The Hollywood Bowl bowling center and arcade offers the Rock Your Brains Out to Cosmic Bowling event every Thursday night from 9:30 p.m. to 12:30 a.m. In addition to a blue-and-purple lighting scheme, it offers unlimited bowling, shoes included, for $8.95 per person. Or you could get the same offer plus a $10 arcade card for $14.95 per person. Fridays and Saturdays from 9 p.m. to 1:30 a.m. are karaoke nights in the lounge.
4030 NE Halsey St.
503-288-9237
hollywoodbowlpdx.com
Grand Central Restaurant and Bowling Lounge is a great place for all-age groups. There is dining and bowling for everyone, in addition to a full bar.
808 SE Morrison St.
503-236-2695
thegrandcentralbowl.com
Roller skating
While the rides aren't operating during the winter, Oaks Amusement Park's skating rink is still open and is a great place to spend an afternoon. During the day, you can skate to the sound of live organ music, or enjoy skating to a live DJ in the evenings during the 18+ adult-jam skate sessions.

7805 SW Oaks Park Way
503-233-5777
oakspark.com
Miniature golf
Go mini golfing with pirates at Glowing Greens. This indoor, pirate-themed
18-hole course is vibrant and colorful thanks to black lighting. Located in downtown Portland and open until midnight on weekends, Glowing Greens is a great option for underage students.
509 SW Taylor Street
503-222-5554
glowinggreens.com

See a movie
5th Avenue Cinema, Oregon's only student-run theater, is operated entirely by Portland State students and shows a huge variety of both mainstream and independent films. Students can see films for free, and you can get free popcorn.
510 SW Hall St.
503-725-3551
5thavenuecinema.org