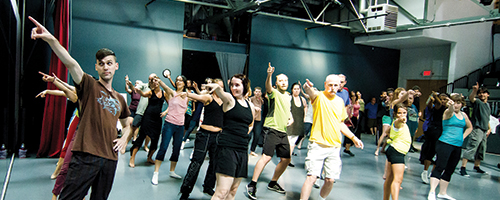 White Bird Dance celebrates 15th anniversary downtown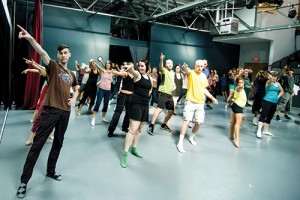 "I'm a young 72," said Lourdes Markley, a student at Portland State's Senior Adult Learning Center, by way of introduction. Markley was taking a brief break during a practice for White Bird Dance's performance of Sylvain Émard's Le Grand Continental, which Markley and approximately 159 other nonprofessional community members will perform this Sunday at Pioneer Courthouse Square.
Markley's daughter had told her about the performance, and the septuagenarian's interest was piqued for a reason echoed by most of the dancers present.
"It's all ages and all races."
Le Grand's emphasis on a heterogeneous, nonprofessional dance group also attracted Paul King—who founded White Bird with Walter Jaffe and serves as the company's president—to the project.
"We're calling it a celebration of Portland's diversity," King said.
The Portland debut of Le Grand will also be a celebration of White Bird's 15th anniversary.
In honor of the studio's 15th year, "we wanted to do something special for the community," King said. "It's a 'thank you' from White Bird."
Le Grand Continental is the brainchild of Sylvain Émard, a world-renowned Montreal choreographer. Though Émard usually choreographs routines for his much smaller professional dance company, Sylvain Émard Danse, Le Grand emerged from much humbler beginnings.
"I've always been fascinated by line dancing because that's how I started dancing as a kid," Émard said. "I wanted to do something with line dancing but to do it with 'normal,' nonprofessional people—the people who normally do line dancing."
Approximately 80 nonprofessional dancers showed up at BodyVox in Northwest Portland on a recent Saturday afternoon to rehearse Émard's intricate line dance. The two-hour session was a "movement clinic," in dance parlance—a voluntary brush up for any dancer who wanted to refine his or her moves.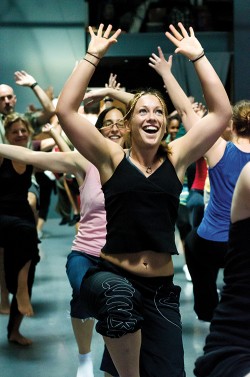 As the dancers rehearsed, Vipul Sagar sat nearby, watching the action from the sidelines.
Sagar was watching his "wife, kid, a neighbor and [the neighbor's] whole family," he said. "I know eight people in this."
Sagar wasn't performing in Le Grand because "they practice too late for me," he said. "They even go for ice cream afterwards."
King also highlighted the heavy time commitment of the dancers involved.
"We're going into our 10th week of rehearsals," King said. The dancers had not only been attending mandatory biweekly rehearsals and the voluntary movement clinics; they also "have been organizing their own rehearsals," King said.
"And videos," Sagar interjected. His 10-year-old daughter—one of the event's youngest participants—had been logging long hours practicing her dance moves to the videos provided online.
"If we could all be as good as the kids," King said.
"They teach the mommies at home," Sagar said.
As Sagar and King watched quietly from the edge of the practice space, Émard called for the dancers to take a short break—a break well earned after an hour of vigorous rehearsal.
One of the dancers relaxing during the break was Dr. Priya Kapoor, a PSU communications professor and one of four PSU professors dancing in the performance this weekend.
Kapoor has always loved dance, though with work, kids and the rest of life's vagaries, she hasn't danced regularly in nearly 10 years. "This was my way back into dance," Kapoor said. "There's a real acceptance of different age groups and cultures, and that attracted me."
Kapoor had previously taken an African dance and a samba class at PSU and, along with some colleagues, hopes to revive the dance program at PSU. (Though a minor in dance is still available, the program has been cut drastically: The World Cultures and Dance Program, for example, offered courses in Latin and Afro-Cuban dance and was defunded in the fall of 2007 because of budget constraints.)
"There were tenured professors in dance—it was actually a fairly well-known program," Kapoor said. "There's a core group of faculty trying to bring dance back to Portland State."
The other PSU professors dancing in Le Grand are Dr. Mary King, professor of economics, Dr. Veronica Dujon, associate dean of the College of Liberal Arts and Sciences, and Dr. Jacqueline Temple, a professor in the Graduate School of Education.
Kapoor, King, Dujon, Temple and the rest of the amateur dancers are supported by Émard's professional dance staff: four rehearsal assistants and a rehearsal director, Jamie Benson.
Benson, who grew up in Albany, Oregon, worked with Émard on the New York performance of Le Grand, which was its American debut. After hearing that White Bird was bringing Le Grand to Portland, Benson knew he wanted to get involved—especially if he could cajole his twin brother and his mother into performing. Benson was successful in convincing his family to dance, and they have reaped unexpected benefits.
"My mother's losing weight, and my twin brother's meeting girls, which is great for him," Benson said. "So everybody's getting something out of it."
What Benson gets out of it is the satisfaction that comes from working with amateur dancers.
White Bird Dance presents
Le Grand Continental by Sylvain Émard
Sunday, Sept. 30, 2 & 4 p.m.
Pioneer Courthouse Square
Free and open to the public.
"What's cool about this is that they're nonprofessional," Benson said. "Dance becomes a common denominator for all these people of very different backgrounds."
Benson weaves in and out of the line formations of dancers as they practice. He offers tweaks and makes suggestions, complementing Émard's spirited instruction.
"This is a fun dance, right?" Benson asked theatrically after he saw a few too many frowns in the crowd. "I wasn't sure!"
"Carolyn's taking pictures" Émard said, referring to Carolyn Campbell, a dancer who was now snapping photographs due to an injury. "You want to be in the picture, and you won't be in it if you're not smiling."
Émard relishes the relaxed atmosphere and palpable enthusiasm of amateur dancers.
"Working with nonprofessionals is very refreshing," Émard said. "With professionals, we get very serious about dancing, so we kind of lose what we loved about dance after all these years."
"They remind you why you love dance," Émard said.