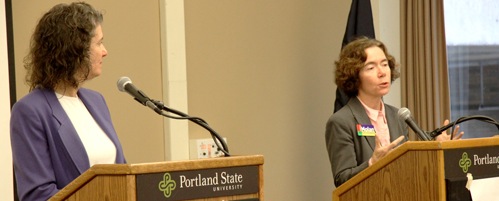 PSU hosts city commissioner debate
Portland city commissioner candidates Amanda Fritz and Mary Nolan came to Portland State Monday night for a verbal wrestling match.
About 50 people gathered in the Cascade Room in the Smith Memorial Student Union to listen as the candidates sparred over the city's Education Urban Renewal Area plan, fluoride and each other's political records.
With elections just around the corner, the exchange served as a critical chance for both candidates to prove their worth, not just to the Portland community but to PSU students in particular. The debate was organized by the Associated Students of Portland State University and the PSU Debate Team.
Fritz, the incumbent, is a retired registered psychiatric nurse. She was elected to the Portland City Council in 2008 and was a member of the Portland Planning Commission for seven years. She was born in England.
Nolan, a Democrat in the Oregon House of Representatives since 2001, was House Majority Leader from November 2008 to November 2010.
One of the first topics was the city's planned Education Urban Renewal Area, a plan projected to provide up to $169 million in tax increment financing for investment in educational facilities, affordable housing and private taxable development in the downtown University District.
Nolan said she is a strong advocate of these development programs.
"It [urban renewal program] has lots of potential and has done wonderful things," she said, calling the plan a "top priority."
"[Because of] the critical role that Portland State plays, and the critical need for having a really strong university, I support the education urban renewal district," she said.
Fritz, on the other hand, does not support the plan, and voted against it in May.
"Urban renewal is supposed to be for blighted areas," she said, adding that PSU has already had much investment and that there are other, more deserving, areas of Portland.
"If we are going to invest more in blighted areas, we should invest more in really blighted areas," she said. "If we look around at Portland State, it is not a blighted area. It already had its turn at urban renewal."
The moderator asked several questions about how the candidates approach civic engagement and how elected leaders should interact with and respond to their constituents. The issue first came up via a question about representation within city council, and the contrast in development of Portland's west side and east side.
"I do think we have issues of inequity in access to decision making, to sharing of power, to influence around the city," Nolan said.
Both candidates were quick to spotlight their commitment to engaging Portlanders.
Fritz noted her creation of the Office of Equity and Human Rights, her attendance at 1,000 neighborhood events and her responsiveness to citizen emails and phone calls.
Nolan spent long hours going door to door and talking with everyday citizens, she said.
The candidates discussed fluoride in city drinking water and expressed contrasting opinions.
"While I think it's important to listen to the voters, I think there are times when leadership says it's time to bring this issue up again," Nolan said, noting that the fluoride issue was last brought up in 1980. She also cited women's suffrage in Oregon, which made seven attempts before women got the right to vote.
In a change of tack, however, Nolan called out Fritz and city officials for passing the fluoridation measure. "I do think the city conducted an inauthentic process in making this decision," she said.
When Fritz was asked to respond, she reiterated her commitment to hearing people out before taking action, noting that Nolan had given her support to the city council's decision to fluoridate the water in the manner in which they did.
"Since it [fluoridation] had been defeated three times at the polls, it should go to the vote," Fritz said. "I was not able to get a single member of the council to agree to that, so we had a public hearing and I listened."
While Fritz agreed with the council and Nolan about fluoridating the water, she tried to contrast herself and her opponent by saying, "I listened first."
The discourse got heated when Nolan brought up the city's controversial 911 dispatch system and expressed concerns, citing supporting articles in Willamette Week and the Portland Tribune. Fritz fired back, saying the articles were outdated.
The debate ended on a lighter note, with the moderator posing questions like, "Where is your favorite place to eat breakfast in Portland?" and "What is your favorite Portland park?"
Afterward, students and community members milled about, shaking hands with the candidates and conversing with them.