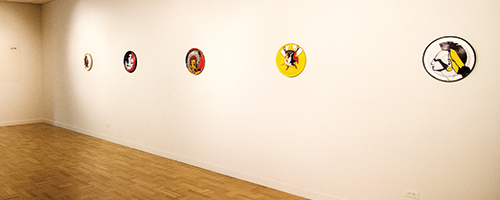 PSU exhibit tackles cultural borrowing through art
Appropriation, or the taking of something without right or license, is a common theme and tool in contemporary art and throughout modern pop culture. Sports teams fit their logos with imagery depicting cultural stereotypes, even as conceptual artists pilfer commercial brands for use in their own works. In some cases, these forms of appropriation can be provocative or invigorating to an icon or image. But when exactly is appropriation inappropriate?
Local art curator J.P. Huckins found himself asking that question.

"It started with seeing art around town that was being made by young people," Huckins said.
"I was seeing this 'hipster' art that was sort of Native-inspired. To me it seemed a little outside of their realm and experience. It sometimes seemed like a cultural appropriation for monetary gain."
This idea of cultural appropriation became the inspiration for Huckins' most recent curatorial project, Inappropriate Appropriation. A group show featuring the work of local artists Sam Guerrero, Rochelle Kulei, Crystal Baxley, Paul Clay and Kesheena Jean Doctor. Appropriation is a mixed media art event examining several aspects of appropriation, cultural and otherwise. The exhibition is currently showing at Portland State's Littman and White Galleries, located in the Smith Memorial Student Union, and will run through the month of October.
Many of the works are informed by American pop culture's appropriation of Native American imagery, or distorted perceptions thereof. A series of hubcaps by Kulei, a recent Portland State Master of Fine Arts graduate, dominates the Littman Gallery's northern wall. Each hubcap bears a painting of an iconic profile reminiscent of a different sports team's logo.
Kitty-corner to the hubcaps, a square of beige is painted at eye level, offsetting the satin white of the gallery walls. This conceptual work, by PSU Bachelor of Fine Arts graduate Baxley, echoes the rest of her series, located in the nearby White Gallery. The swatches of color she presents are related only by the names on their labels: "Indian Tears," "Indian White," "Indian Hills" and "Indian Necklace."
"I've had this small collection of paint swatches with names that make me uncomfortable lying around for a while," Baxley said in an email. "I think the feeling that made me pick up these swatches and keep them around is the same kind of feeling that J.P. had in mind when he put this show together. Their names certainly don't strike me as appropriate, so for me this show serves as a constructive outlet for exploring, or at least exposing, my discomfort with arbitrary appropriation of indigenous culture covering the walls of homes across America."
But other works examine alternative ideas of appropriation. Two works by Portland State Master of Fine Arts graduate Guerrero take a look at Hollywood action films and their effect on the human subconscious. Each video work displays a tightly looped clip, replaying for the viewer one of several moments immortalized in film.
"Both works take into consideration the appropriation of our personal headspace by pop culture and the influence it has on how we ultimately begin to understand the world," Guerrero said in an email. "My memory of these films is very different than what I recognized in a viewing, then again, later in life. Yet I cannot deny their influence. By isolating them I hope to conjure something similar in the memory of the viewer and unpack some of the implications such imagery has on our subconscious."
Tucked behind a black curtain dividing the eastern end of the Littman from the rest of the gallery, Clay's video installation explores human tragedy and ecstasy alike, with a mix of news segments and clips from a nightclub all set to a musical sequence performed by the artist in a mix of Spanish and English.
Though he acknowledged that themes of Native American and pop cultural appropriation were his initial inspiration for the show, Huckins explained that he wanted the artists to draw their own conclusions and create new conversations about appropriation.
"I didn't want everyone to have a specific answer, or the same answer," Huckins said. "I don't think the show is just about cultural appropriation. It's about sexual appropriation, or any other appropriation out there. They might not all be offensive, but they may be questionable in some way."
As a former curator for the Littman Gallery, and one of the curatorial forces behind Recess Gallery in Southeast Portland, Huckins is no stranger to Portland's experimental art scene. He and his colleagues at Recess champion emerging mixed media and conceptual artists who often have limited options for exhibiting their work.
"We're all interested in different specific things, but we all share an interest in promoting conceptual and experimental art, especially underrepresented artists," Huckins said. "We try to show people that we're excited about people that we feel need to be seen and heard. Recess is just an alternative space that aims to provide a platform not offered by the bigger galleries."
The Littman and White Galleries present
Inappropriate Appropriation
Monday, Oct. 8, to Wednesday, Oct. 24
Free and open to the public
The exhibition will run through Oct. 24, giving students several weeks to stop by and make their own judgments. Those who visit will find a collection of works designed, not to offer answers or to point fingers, but to ask questions.
"In many cases, I'm largely a proponent of appropriation," he said. "The bigger question is just where do we draw the line, or if there even is a line. And if there is, who makes the line?"