The 22nd annual Cascade Festival of African Films opens with Egyptian film Scheherazade, Tell Me a Story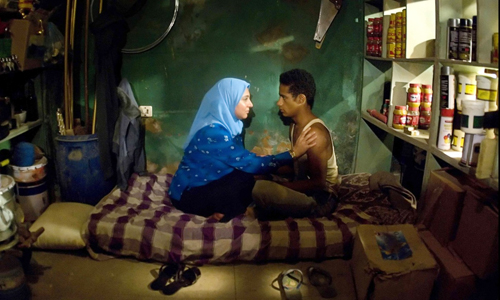 Scheherazade, Tell Me a Story—a film that focuses on government oppression, women's rights, corrupt politics, true love and the desire for freedom—will be shown Friday, Feb. 3, at Northeast Portland's Hollywood Theatre as part of the 22nd annual Cascade Festival of African Films.
The event is co-sponsored by Portland States' International Studies Department, Middle East Studies Center and Black Studies Department.
"The CFAF is now in its 22nd year and is, in part, aimed at encouraging inclusiveness and accessibility by offering the festival free of charge," said Joseph Smith-Buani, professor of black studies at PSU. "Portlanders have responded with tremendous support for the festival."
Scheherazade will be the film that opens the festival, which takes place through March 3.
"That the CFAF committee opens the 22nd festival with this film tells me it is a strong film that will measure up to our expectations," Smith-Buani said. "The festival celebrates black history and women's history and continues beyond Scheherazade with many educational films from the African continent and the African Diaspora."
The film tells the story of a young married couple in Cairo named Karim and Hebba, both of whom are successful in their careers. Hebba is the hostess of a highly acclaimed political TV program, and Karim is about to be appointed editor-in-chief of a prominent newspaper. In order to receive a promotion, Karim is told to convince his wife to cut down on her heavy, political criticism and to focus instead on ordinary people. She does so, but her "non-political" coverage becomes even more shocking and repulsive to the authorities, causing a rift in their society.
Scheherazade is director Yousry Nasrallah's seventh film, which won the Lina Mangiacapre Award at the 2009 Venice Film Festival and the Best Screenplay award at the Brussels International Independent Film Festival in 2010.
"The film really introduces us to modern day Egypt leading up to the Arab Spring," Smith-Buani said. "It gives us an opportunity to reflect on the fusion of oppressive politics, repression and the desire for freedom and creativity in African communities."
In addition to giving us a snapshot of Egypt's political atmosphere, the film depicts everyday life in Cairo by focusing on ordinary women and on Hebba and Karim's tumultuous relationship.
"While the media has been dominated with images and ideas about the Arab Spring and the Tahrir Square protesters, it is important for people to see that there is more to daily life in Egypt than just that," said Elisheva Cohen, PSU's outreach coordinator of international affairs. "I hope that this film can portray a small sliver of daily life in Egypt and expose the audience to new images and ideas about the country and the region."
Although Scheherazade has received largely positive reviews—"lively, swift, vibrantly colorful and for the most part wonderfully acted, the film is slyly aware of the daytime talk show as a vehicle for women's concerns," as one New York Times article raved—Cohen believes there may be cause to look again.
"Though I haven't seen the film, an Egyptian colleague of mine who has seen it said that she does not think it adequately represents life in Egypt," Cohen said. "I would encourage anyone who sees this film, as I encourage people watching any film, to watch it with a critical eye and think carefully about what is being said."
The international studies department, the Middle East Studies Center and the black studies department present
Scheherazade, Tell Me A Story (2009)
Friday, Feb. 3, at 7 p.m.
Hollywood Theatre (4122 NE Sandy Blvd.)
Free and open to the public