Middle East Studies Center hosts 'lunch and learn' with Reed College's Asmaa Taha
The Middle East Studies Center will host a "lunch and learn" event featuring Arabic language scholar Asmaa Taha on Thursday, Jan. 26, at noon in Smith Memorial Student Union room 238. Taha will speak about the state of post-Mubarak Egypt on the one-year anniversary of the country's revolution.
Taha, an Arabic language professor and Fulbright scholar at Reed College, was living in Egypt in 2011, and experienced first-hand the volatile nature of a country in the midst of revolution.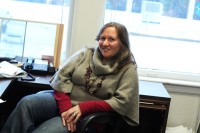 In January 2011, the citizens of Egypt assembled in Cairo's Tahrir Sqaure and began a large-scale protest against perpetually deteriorating standards of living, unemployment, poverty and the authoritarian rule of 30-year Egyptian President Hosni Mubarak.
The citizen uprising in the North African country of Tunisia inspired the Egyptian revolution and what followed became known as the "Arab Spring." Echoing the citizen uprisings in Tunisia and Egypt, a wave of citizen-led protest movements spread across the Middle East, to Libya, Syria and Yemen.
Taha described the atmosphere surrounding the Egyptian revolution as being filled with mixed emotions; both fear and hope were present simultaneously. "[The revolution] was a bit of a challenge—it was sort of a complex feeling. It was insecurity, but also a feeling of hope for change; it was lots of things. There was hope for a democracy as well," she said.
Taha began her career teaching English to Egyptians, but when she saw a need to educate Americans on the Middle East and Egyptian culture, she shifted her focus. The Arabic language is a central part of that focus.
According to MESC Outreach Coordinator Elisheva Cohen, MESC chose Taha to speak at the lunch and learn event due in large part to her personal experiences. "We knew that she would bring a unique perspective to this discussion as someone who was in Egypt during the revolution," Cohen said.
Taha believes that even though Mubarak is no longer in power, Egypt still faces a multitude of problems in its attempt to move forward. She said that many Egyptians are concerned by the results of the last election, in which the Muslim Brotherhood—an organization many believe to be comprised of radicals and Islamic extremists—were victorious.
"As of now, there is no change happening yet, so we might need another revolution indeed," Taha said.
Ellen Coughlin, a junior economics and political science student at PSU, has been following the recent uprisings taking place in the Middle East and Northern Africa and believes that it is important for students to educate themselves on international issues.
"Our government has such an investment in how things go in the Middle East and so do we as individuals. Although we take for granted the rights that we have here, many don't have those same rights elsewhere," said Coughlin. "We are also interconnected now more than ever through economic, political and social means. What happens halfway around the world has important implications on what happens here. What happens in the Middle East and Northern Africa will shape the international community."
Global interconnectedness is also important to Taha. She hopes that those attending the MESC event will come away from the discussion with both a better understanding of Egypt's complex issues as well as a greater level of tolerance for individuals of different cultural backgrounds.
In her speech on Thursday, Taha plans to address the potential obstacles Egypt will face in its attempt to form a new government with a newly empowered and watchful society. "It is mainly a focus on the challenges that Egypt might face in the future, as well as women's rights, from my perspective as an Egyptian lady," she said.
This "lunch and learn" event is part of a monthly speaker series put on by the MESC. The program provides people with the opportunity to learn about events occurring in the Middle East as well as to facilitate meaningful discussion amongst attendees.
"The L and L series provides an informal atmosphere for students, faculty and the general public to learn about current events in the Middle East from scholars and experts," said Cohen.
This event is co-sponsored by the Oregon Chapter of the American Research Center in Egypt. According to Cohen, the ARCE normally only supports events focused on archaeology and ancient Egypt, but Cohen said that the organization expressed enthusiasm over sponsoring a discussion about modern Egyptian issues.
"I think this is a great opportunity for students to gain a unique perspective on the Egyptian Revolution. Additionally, the series is great for students because it's an informal discussion–the speakers are not intimidating and it's a great chance for students to ask questions and learn a lot," Cohen said.
Although lunch is not provided by the MESC, participants are welcome to bring food to eat during the presentation. Seating at the event is limited, as the MESC only allows around 40 attendees.
Students interested in attending this event can RSVP by contacting Cohen at 503-725-4074. For more information about upcoming MESC events, students can check out the organization's website, www.mesc.pdx.edu.