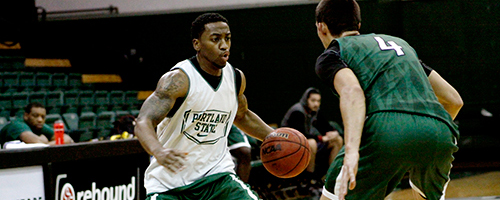 Men's basketball hopes for another winning season in 2012–13
Practices started for the men's basketball team earlier this month as they prepare for the upcoming season. After finishing third last season in Big Sky play and reaching the semifinals of the conference tournament, hopes are high for another winning season.
"I've been pleased with how hard we've been going," head coach Tyler Geving said about the first practices. "The guys have been competing and have good energy. I think we're pretty close to turning the corner and getting over that hump, so I'm excited about it."
Though the Big Sky media and coaches both picked the Vikings to finish fifth in the league this season, the potential is there for a second straight winning season in Geving's fourth year leading the program. Here's a look at the team's strengths and weaknesses at each position as they prepare for a Nov. 2 exhibition against Concordia.
Guards

Strengths: Geving added Marcus Hall, the Northern California junior college player of the year for the 2011–12 season, to a deep stable of guards. Hall brings a strong defensive presence to the perimeter for the Vikings. Lateef McMullan and Michael Harthun, who between them made 63 of 64 starts last year, make this the position with the most experience for Portland State. Sophomores Gary Winston and Joel King also saw playing time last season off the bench and will provide further depth.
Weaknesses: The team has to figure out how to replace the production lost when senior Charles Odum graduated. A two-time All-Big Sky Conference team selection, Odum averaged 21 points per game in conference play. Geving and his assistants will have to shuffle their rotation to try to mitigate that loss of production.
Forwards
Strengths: The team added Aaron Moore from San Bernardino Valley Junior College to another deep position. Renado Parker was the primary backup last season, scoring 9.8 points per game and averaging 5.1 rebounds in relief. Geving has also been pleased by the emergence of Michael Harvey and Martin Whitmore this preseason. "They've both come back and worked extremely hard early on, which is encouraging. All of a sudden, maybe guys that didn't give you a lot last year could at some point this year contribute quite a bit to us," Geving said.
Weaknesses: Chehales Tapscott, a first team All-Big Sky selection last year, leaves a major hole in the starting lineup. The team will miss the 14.1 points and 9.3 rebounds he averaged last season. Parker will likely get the first opportunity to step into a starting role, but Harvey and Whitmore will challenge for playing time.
Centers
Strengths: Geving added another big man to the roster, transfer student Lamont Prosser from Sheridan Junior College in Wyoming. Returning 6-foot-10-inch letterman Brandon Cataldo has improved in the offseason, looking strong inside during preseason practices.
Weaknesses: Since senior Nate Lozeau graduated, the team only has two centers on the roster—and both are currently recovering from injuries. Prosser has been slowed by an August knee surgery. Cataldo will been sidelined by a stress reaction in his leg until at least the first week of December.