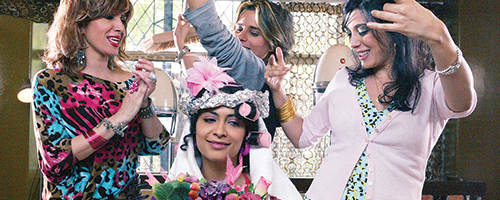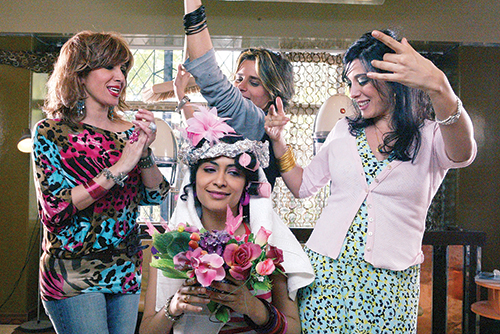 Going to a movie in a theater is a lot like going to the barber or the hairdresser: You sit down in a chair, lean back and, for a predetermined amount of time, are captive to an artiste (or so you hope).
There's something terrifying but also soothing about relinquishing control and becoming completely vulnerable. And as with any good haircut or movie, you walk away slightly transformed.
Portland State's Middle East Studies Center will attempt to transform viewers at a screening of the 2007 Lebanese film Caramel tomorrow evening. The film will be followed by a discussion led by Lina Gomaa, a senior instructor of Arabic in the World Languages and Literatures program at PSU.
"[Caramel] highlights several important issues with women in the Arab world, and highlights [them] intensely," Gomaa said.
It sounds severe, but on the surface Caramel is a very accessible personal drama. The film centers around six women living in Beirut, four of whom work at the same salon. For the most part they all have normal, everyday problems often seen in American films.
Jamale spends most of the film concerned about aging after her divorce. Rima finds herself attracted to a female client who comes in increasingly frequently. The salon owner, Layale, is stuck in an affair with a married man.
The women in Caramel are so believable in their normalness that at times it's easy to forget the film is in Lebanese. This casts the distinctly Middle Eastern moments in even starker relief.
Much of the film revolves around the engagement and upcoming wedding of one of the hairdressers, Nisrine. She's worried about what will happen if her husband and his family find out that she's not a virgin. Later in the film we see her in a doctor's office.
Nisrine's dilemma highlights some of the cultural differences that Caramel depicts.
"In some countries, including Egypt and Lebanon, they…kind of fake that, especially if they go and get married," Gomaa said. "So she had an operation."
This fraught moment isn't obvious or telegraphed; the struggles of these women are expressed with subtlety and tact—there's no roundtable scene where the ladies all explain their troubles so we know what should be "fixed" by the end of the film.
Some of the most powerful moments in Caramel are the ones unspoken: Jamale close to tears in the bathroom, forging a used tampon to fool others (and herself) into thinking she hasn't hit menopause; Rima's euphoric smile when her client finally decides to cut her hair.
Two sisters, Rose and Lili, exist mostly apart from the other four hairdressers: Rose considers herself responsible for the mentally disabled Lili, and she grapples with how to balance that duty with her own desire for happiness. Rose's unspoken moment is equally powerful and simple as she wipes makeup from her eyes.
The buildup to these turning points is understated, to the point that they sound like part of a person's daily routine taken out of context. Director Nadine Labaki, who plays Layale, crafts Caramel so that it's sweet enough to consume but ambiguous enough to serve as a discussion of taboo issues in the Middle Eastern world.
Gomaa hopes to dissect the problems each of the women raise with the discussion after the screening. Though she's an authority on the subject, Gomaa will play off of the audience's gut reaction to the film.
"I'll give more space for the audience because their questions will lead to discussion more than me talking, trying to tell them what they think," Gomaa said.
PSU's Middle East Studies Center presents
Caramel
Wednesday, May 15, 7 p.m.
Smith Memorial Student Union, room 294
Free and open to the public
Those involved in Middle East and women's studies will probably get the most from the movie and the post-screening talk, but anyone is welcome to join the conversation.
"This is a good movie for [people] to see the commonalities [and] the differences between American society and Arabic society," Gomaa said, "in [regard to treatment of] women and the different challenges women face.
Gomaa recommended the event to students in programs other than Middle East studies as well, saying, "It will just give him or her a new perspective that the world is different, and it opens up their horizons."