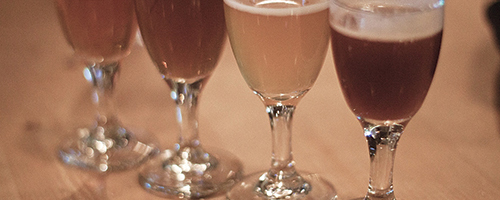 It doesn't take long for Portland to transform indifferent beer drinkers into snobbish craft connoisseurs. With 51 breweries inside the city limits, Portland flaunts beer like Vegas flashes, well, everything.
Deciding on where to drink on an evening after class can be the hardest part. But depending on your mood, palate and company, you can narrow the search for the perfect pub experience down to a single location.
Tugboat Brewing Company
711 SW Ankeny St.
503-226-2508
One of the closest brew pubs to Portland State is the Tugboat Brewing Company, a quaint little place located right before West Burnside on Southwest Broadway. If you're looking for a subdued, quiet place to step out of the rain and reflect on finals, the Tugboat is the perfect place to grab a beer. The staff is always personable and quirky, the decor is charming in its simplicity and there is a homey collection of board games to entertain the more restless friends you bring along.
Hair of the Dog
61 SE Water Ave.
503-232-6585
Exhausted students looking for a spirited beverage can head just across the river—Hair of the Dog Brewing Company, located on the corner of Southeast Water Avenue and Yamhill Street, has some of the strongest brews you can find in the city. Patrons will discover an assortment of drinks that are well above 10 percent alcohol by volume, and Hair of the Dog makes it a mission to create original and creative beers for customers' enjoyment.
Lucky Labrador Brewing Company
915 SE Hawthorne Blvd.
503-236-3555
Lucky Labrador Brewing Company, a large brew pub located just a touch further south, on Southeast Ninth Avenue and Hawthorne Boulevard, is another Southeast gem. Not only are there delectable drinks on the menu, but there's also an outside, covered patio for furry friends to visit, so it's a great spot to sip a cold one with your dog.
Hopworks Urban Brewery
2944 SE Powell Blvd.
503-232-4677
hopworksbeer.com
If you want to make a pub crawl out of this whole thing, head a little farther southeast to Hopworks Urban Brewery. Open since 2007, Hopworks enjoys the distinction of being one of Portland's first eco-breweries—handcrafting awesome organic brews in an eco-friendly, sustainable environment. In addition to the killer beer (try the Survival Stout, made with coffee from Portland's own Stumptown), the menu is full of variety and includes vegan and gluten-free options.
Full Sail Brewing Co.
307 SW Montgomery St.
503-222-5343
Full Sail Brewing Co. is closer to campus with a waterfront location on Southwest Montgomery Street. This scenic pub also has a glass wall so you can check out the brewing action and offers a close-by place for PSU students to drink great beer.