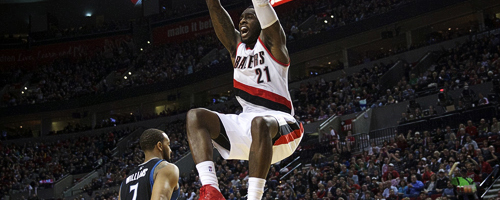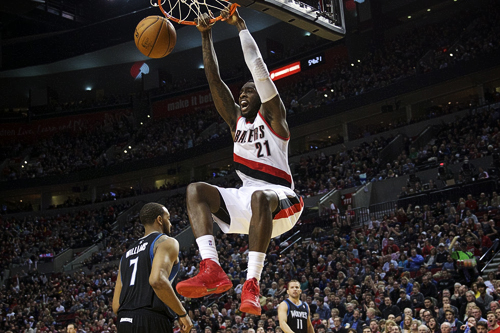 The Portland Trail Blazers beat the Minnesota Timberwolves handily on Saturday night, notching an emphatic 109-94 win over their Northwest Division rivals. Damian Lillard scored 24 points to lead the team, while J.J. Hickson contributed another double-double with 18 points and 16 rebounds.
The game marked the return of former Blazer favorite Brandon Roy to the Rose Garden, although he didn't see any action on the court. Roy has suffered many setbacks to his comeback this season as knee trouble has drastically limited his play. The three-time all-star spent the game sitting behind the Minnesota bench but received a standing ovation from the crowd.
With the win, the Blazers swept the Timberwolves in the season series for the fifth time in the last six seasons. Minnesota's high expectations this year have been derailed by injuries—the team had only had nine players suited up to play against Portland.
Still, a victory was by no means a given for the Blazers, who have struggled with consistency all season. Portland was determined to come out strong and did exactly that, jumping out to a lead in the first quarter that they would hold throughout the game. Minnesota kept the game within striking distance but couldn't keep up with the Blazers, and Portland scored a much-needed win to get within striking distance of the eighth playoff spot in the Western Conference.
A good sign for Portland was the play of Eric Maynor, the guard acquired from the Oklahoma City Thunder at the trade deadline this year. Maynor struggled in his first two games with the Blazers but got into a groove against the Wolves, contributing seven points and a career-high 12 assists. Portland will need Maynor to continue to develop his game in order to alleviate some of the nightly pressure on Lillard.
The Blazers now move on to a difficult portion of their schedule, with upcoming road games against the Memphis Grizzlies, San Antonio Spurs, Chicago Bulls and Thunder all slated for March. Tip-off for tomorrow's matchup with the Grizzlies—currently in the fourth spot in the Western Conference standings, is set for 5 p.m.