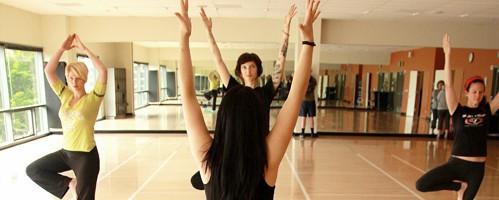 Free daily yoga classes offered at the Rec Center to students, staff, faculty and alumni
The Portland State University Academic and Student Rec Center has an impressive array of yoga classes in its weekly Group X schedule. One or more yoga classes are conducted every day at the Rec Center, including gentle yoga, hatha yoga, vinyasa and power vinyasa yoga.
"Power vinyasa yoga means one breath—one movement," Group X yoga instructor Chelsea Donaldson said. "You are moving relatively fast, and there is a flow to your movement. Anyone can come to our classes, including beginners, as one can go at their own pace."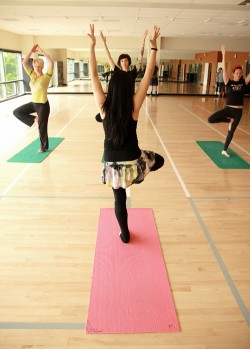 Caitlin Goodwin, another Group X yoga instructor and a physical activity and exercise science senior, also encourages beginners to attend a yoga class. "Participants can expect to get a good workout, to have fun, learn something new and to get away from the rest of the world for one hour," she said. "I encourage anyone to take our classes. Everyone has to begin at some point, and we welcome all levels of students."
Goodwin got started in yoga after an accident. "When I lived in Vail, Colo., I was involved in a car accident in early February that ended my snowboard season," Goodwin said. "My doctor suggested that I try yoga. I was not thrilled about the idea but after my first yoga class, I just knew that I wanted to be a yoga teacher. I got my yoga certification six months later."
Now, Goodwin has been teaching yoga for almost nine years, and she teaches power vinyasa yoga at the Rec Center along with Donaldson, who has been there since November of last year and who turned to yoga for similar reasons.
"Four years ago, I wasn't feeling physically well," Donaldson said. "My friends suggested yoga, and it felt so great. After that, there was no turning back."
Donaldson said that in addition to health benefits, yoga also helps the mind relax and improves mental focus. "You focus on your breath, that is when you are moving," she said. "You are completely in the moment, enveloped in your breath. At the end of the class, you realize that you haven't been thinking about your homework. You have been thinking about inhaling and exhaling, which is a very good meditative quality."
Goodwin agrees. "There are so many benefits of yoga…some of them include better health, reduced stress, increased flexibility, increased strength and happier lives overall," she said. "Yoga helps give people more awareness, helps them to have better relationships and helps people to be better in general. People come to a practice with individual needs and expectations, so people tend to get what they are looking for and even learn more than they expected."
To attend one of these classes, students, staff, faculty or alumni must have an ASRC membership for the current term. Portland State students are required to take at least one credit during the quarter to be a member at the ASRC. The Group X class schedule is listed on the ASRC website: www.pdx.edu/recreation.
Students attending a group X class for the first time need to sign a waiver before they can pick up their Group X pass at the equipment checkout desk on the second floor of the ASRC. To access the Rec Center, students need to have a photo ID. Once the paperwork is finished, all that's left is clearing the mind.
"Yoga is a special practice that can change your life. Anyone who practices yoga will tell you only good thoughts," Goodwin said. "The practice speaks for itself."