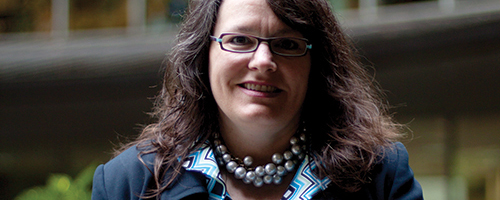 Center for Public Humanities holds lunch and lecture
"The last 100 years have brought dramatic changes to Britain," said Tracy J. Prince, scholar-in-residence for the Portland Center for Public Humanities. These changes are revealed in her upcoming lecture, which will touch on issues raised in her book Culture Wars in British Literature: Multiculturalism and National Identity.
Prince's lecture is part of the center's Faculty Lunch and Lecture series, which PCPH Director Marie Lo said provides "opportunities for faculty to share their work with the rest of the PSU community.
"This series, in particular, enables faculty to present recently published work or works in progress," Lo said. "Having an audience and interlocutors can help faculty refine their projects and create cross-fertilizing possibilities. This is one of the great things about the series."
In Culture Wars, Prince analyzes how British literature reflects evolving ideas of "Britishness" and what it means to be British, and how literary anthologies do not reflect these changes.
"Many decades of debates over multiculturalism, political correctness and what it means to be British have contributed to changed ideas of Britishness," Prince said. "Thus the teaching of 20th and 21st century British literature tends to remain focused mostly on Anglo-English writers."
Prince first became interested in this discourse while studying at the University of Oxford in the early '90s. During her studies and time teaching, she analyzed American literature through the lens of race, gender and class, and she wanted to look at British literature in a similar fashion. Through these studies, she found few writers of color or writers from countries like Scotland, Wales or Northern Ireland represented in British bookstores.
With these exclusions drawn, Prince reflects on current times.
"These days, non-Anglo-English writers are much better represented in British bookstores than in the early '90s," Prince said, "yet British literature anthologies remain focused on a mostly Anglo-English perspective."
Culture Wars takes textual evidence from a handful of works to argue these exclusions. Instead of going deeply analytical, Prince finds that narrowly focusing on a few works without diving in too deeply is most effective.
"The literature ranges from Rudyard Kipling at the beginning of the 20th century to Zadie Smith [in the 21st]," Prince said. "Instead of deep textual analyses of a few books, I use a huge number of quotes about what it means to be British from British novels and poetry, author interviews, news stories and literary criticism. My book is a cultural study of how the British literary canon is taking shape in the last 100 years—who is included and who is excluded and why."
Though seemingly focused on British literature alone, the lecture will appeal to a variety of PSU departments, according to Prince. First, the English department will find interest in the fact that the lecture relies heavily on the British literary canon. Second, strong cultural studies overtones will appeal to both the history and sociology departments. Third, the Black Studies department will find racial constructions interesting as detailed in the chapter "The Difficulty Defining Black British."
There is also a chapter entitled "British Jewish Writers," which will appeal to PSU's Judaic studies department, and the women's studies department will be interested in topics of gender and information regarding the Booker Prize, Prince said.
In addition to detailed studies of British literature and British cultural issues, Prince has also worked extensively in countries such as Turkey, Australia, Canada and the United States studying social equity issues.
"I enjoy fully immersing myself into different cultures to observe and feel cultural differences," Prince said. "During my two years in Turkey, I fell in love with the warmth of the people, the gorgeous architecture and design that are legacies of the Ottoman Empire."
The Portland Center for Public Humanities presents
Faculty Lunch and Lecture series:
A lecture by Tracy J. Prince
Friday, Oct. 19, noon
Neuberger Hall, room 407
Free and open to the public
Prince has also worked more locally, specifically with Oregon Humanities, a nonprofit organization that works to connect Oregonians in an effort to promote the humanities through programs and publications throughout the state; Prince is able to spread her scholarship across Oregon through the organization.
"As one of the featured speakers with [Oregon Humanities'] Conversation Project, I travel throughout the state teaching and having a conversation about Oregon's Native American art and history," Prince said.