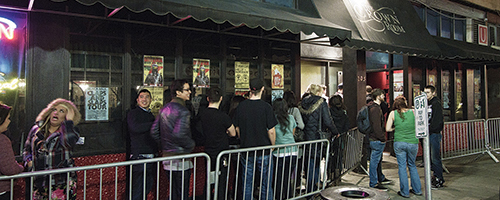 House dance parties may be the norm in Portland, and that's fine if you want to dance for 45 minutes in someone's living room to a handful of boring Crystal Castles remixes.
However, sometimes able-bodied revelers need a little more lateral stimulation in a place designed for such, to a soundtrack provided by a licensed professional. Unfortunately, Portland's dance scene falls short of almost every other similarly sized city.
This doesn't mean that our scene falls flat, it just means that nothing is likely to fall into your lap without appropriate research.
The Crown Room
205 NW Fouth Ave.
503-222-6655

You knew it'd be on the list, and you've heard all the stories: Bouncers here are horrible goblins because they took someone's fake ID, or wouldn't let someone in that couldn't stand without peer assistance. Those are all true.
The horror stories about the establishment's bathrooms are just an urban legend nowadays, after a recent remodel. That said, the Crown Room is the kind of weird dingy club that you've seen in early-2000s coming-of-age movies. It's dark, hot, small, loud and awesome.
The music generally rules, and the floor is expansive yet intimate enough to dance with someone without coming off as a creeper.
Groove Suite
440 NW Glisan St.
503-227-5494
Formerly Pi-rem (as in the mathematical symbol), the space used to be a speakeasy of sorts: The building had no signage and offered would-be patrons only an obscure descending staircase. Eventually, ownership changed hands and Groove Suite was born.
Widely regarded as having the best sound system in the city, the nights are incredibly diverse: While the bulk of Portland clubs are hung up on dubstep and electrohouse, Groove Suite caters to the fringe—Chicago house, minimal techno and U.K. garage acts get regular burn here.
The clientele is incredibly diverse, and it's worth a scope even if you've never heard of the three genres listed above.
Holocene
1001 SE Morrison St.
503-238-7639
You won't find a lot of real-deal EDM (electronic dance music) here, but what you will find is a cachet of closeted hip folk who check their inhibitions at the door and get down to any non-EDM thing that Holocene happens to be hosting that night.
Holocene features music that is about as close to EDM as its patrons can enjoy without getting upset at themselves. That said, synth-tinged music with 4-on-the-floor beats is pretty standard here, along with other nights that feature world music, soul and other less-electronic sonic treats.
The Whiskey Bar
31 NW First Ave.
503-227-0405
This is one of the best places in the city to dance to actual EDM. The people on the decks are talented individuals (and sometimes duos), and although the club has its big-city-imitation moments, the space and crowd are what amounts to Portland's version of a club scene.
It's a refreshing atmosphere considering how all-too-many club owners in Portland try to rehash what they saw in Los Angeles or Vegas when they went there seven years ago. The Whiskey's name is where its LA-aping ends; the club is Portland all the way.
Refuge PDX
116 SE Yamhill St.
[email protected]
Recently legitimized as a music venue by a joint effort between snitches and the Portland Police Bureau, the once hush-hush Refuge now lets anyone in who has money and an ID.
However, that doesn't mean that the space hasn't stopped booking the best electronic music in the city whenever it rolls through town. It's a huge, cavernous space that begs to be danced in. And their top-notch sound system is a big bonus.
For your more regular weekly dancing, look elsewhere, but don't hesitate to check Refuge's calendar frequently.