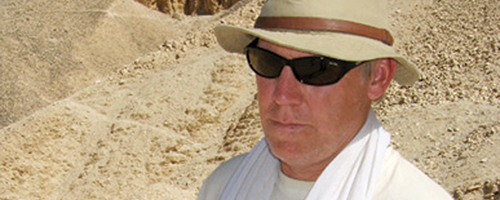 Egyptologist Donald Ryan speaks about rare archeological finds
What do you think of when you think of ancient Egypt? Famous pharaohs and King Tut? There are many facts about one of the most mysterious regions of the world that are not as well known but just as significant.
Egyptologist and professor Dr. Donald Ryan is coming to Portland State to deliver his lecture, "Ancient Egypt: The Greatest Discoveries You've Probably Never Heard Of." The event is cosponsored by PSU's Middle East Studies Center and the Portland chapter of the American Research Center in Egypt. Ryan has been asked to share information about little-known finds in Egypt over the last 200 years.
"It's not as if I've got world-changing information, but I've always been fascinated with Egypt," Ryan said. "I've heard from many people who say, 'I want to study archeology or Egypt,' and all of them end up studying it."
Most of the artifacts and data that will be discussed in the lecture will center geographically around the Valley of the Kings, the area where King Tut was unearthed.
"These discoveries range from papyri to solar boats, from sarcophagi to funerary treasures, from a site that would have rivaled the tomb of Tutankhamun to a burial of non-royal mummies," according to the ARCE's press release.
Ryan works in the fields of ancient linguistics, archeology, history and Egyptology. He has published numerous books, including titles in the popular Complete Idiot's Guide series, and he has appeared on the National Geographic channel.
He is a member of The Explorer's Club and the Royal Geographical Society and currently works in the Division of Humanities at Pacific Lutheran University.
This particular lecture calls upon his experience in ancient Egyptian history. In addition to reminding the audience of commonly known discoveries such as the statue of the goddess Nefertiti and the Rosetta Stone, Ryan will talk about circumstances that have made other finds obscure to the public.
"One example is in the Valley of the Kings, where we've found several tombs with mummified animals buried with the mummies themselves," Ryan said. "These people weren't royal, so they didn't get much media, but it's still interesting."
It's not just funeral accessories, however: Certain areas around Egypt that have revealed many significant finds remain largely unknown.
The Middle East Studies Center and the American Research Center in Egypt present
"Ancient Egypt: The Greatest Discoveries You've Probably Never Heard Of," a lecture by Professor Donald Ryan
Wednesday, Nov. 28, 7:30 p.m.
Smith Memorial Student Union, rm. 236
Free and open to the public
"Did you know that the Greeks and Romans once owned Egypt?" Ryan asked. "There are many of these buried, old Greek towns that now just look like big hills that have been dug out a little bit.
"People have du g in these old towns' garbage dumps in the past and found manuscripts written on papyrus. These manuscripts can be anything from poetry to parts of the Bible, all in the dumps of these ancient Greek towns," Ryan said.
Audience members are encouraged to come with open and eager minds. While Egypt is often known for its secrets, there is always more to discover.