PSU to host Make/Believe, a work of modern dance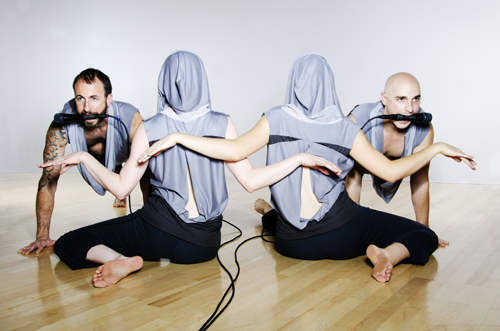 Two men and two women are in the throes of an argument, their faces alight with emotion, their gestures fierce and desperate.
But they're not arguing with each other. Instead, the four of them stand staggered, facing the same direction, shouting a torrent of barely audible words at no one in particular, depicting the many faces of human conflict.
They are the performers of the tEEth dance company, rehearsing a scene from their upcoming show, Make/Believe, which they will perform at Portland State's Lincoln Hall Jan. 26–28. Make/Believe, a work of modern dance and gestural expression, is choreographed by artistic director Angelle Hebert and fueled by the soundscapes of composer Phillip Kraft.
Make/Believe is a story about the nature of human communication in all its forms, told in the abstract language of contemporary dance. The story lacks characters and a traditional narrative, but the story is made vivid and accessible through the performers' sharp delivery of gesture and expression.
Hebert made a point not to explain the work in great detail, for the performance is intended to be interpreted by the viewer.
"I don't want to relay too much," Hebert said. "Early on, we wanted to focus on fantasy and how we use fantasizing as a way to cope in society."
The four roles are enacted by performers Philip Elson, Molly Sides, Shannon Stewart and Noel Plemmons. The dancers speak in dialogue and soliloquy at various points in the performance, but rarely is the content of their words particularly important. More often, it is their bodily gestures and facial expressions, both gentle and intense, that convey the story, such as it is.
Make/Believe delivers a spectrum of musical scoring, at all times tied to the movements of the dancers themselves. Soft piano pieces lead in to harsh electronic numbers, which sometimes drift into sweeping sound effects or fall into silence, giving full focus to the performers onstage.
The show is being presented by White Bird, a Portland-based presenter of dance acts from across the globe. The tEEth performance is part of White Bird's Uncaged series, a seasonal presentation of fresh acts brought to Lincoln Hall by White Bird founders, Paul King and Walter Jaffe.
"At PSU, the Uncaged series is almost always new," King said. "This season, we brought back a couple [performers] because they were really stellar artists. So it's just new work, not necessarily a new artist."
The tEEth troupe, founded in 2006 by Hebert and Kraft, has toured various parts of the United States, including Seattle, New York City and Austin. In 2011, the troupe won first place in the Seattle-based On the Boards' yearly A.W.A.R.D. Show!, according to the foundation's website. It is that award and the support of White Bird, which commissioned the Make/Believe project, that has made possible tEEth's upcoming performance at our university.
"They've been in contact with us from the beginning," Hebert said of White Bird's founders. "When they approached us about commissioning a work, we were also approached by On the Boards, which led to this project. It's been a tremendous help in terms of funding Make/Believe."
A tEEth show is a poignant convergence of music—both live and pre-engineered—human performance and technical lighting. The creative process is a feat of collaboration involving months of rehearsal and choreography.
"This work has taken us, I believe, about eight months to put together," Hebert said.
No single element of the show overshadows the others, according to Kraft, who referred to the writing process as a mixture of everyone's input, some of it off-the-cuff.
"We do a lot of improvisation early in the process," Kraft said.
Although White Bird brought tEEth to Portland State as a home-grown, Portland-based company, the presenters have a long history of working with dance companies across the globe. King also pointed out White Bird's unique role as "the sole dance-only presenter west of the Rocky Mountains."
"It's our mission to bring the most exciting vital work from all over the world, to bring our dance companies and their choreography to our audiences here in Portland," he said.■
White Bird and tEEth present
Make/Believe
Jan. 26–28 8 p.m.
Lincoln Hall$
20 students/seniors, $30 adults