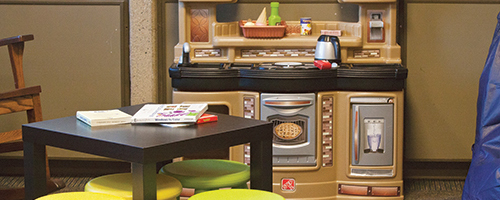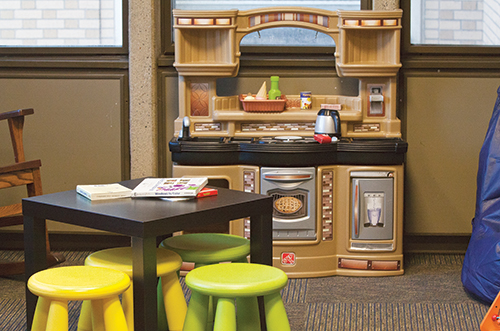 Occupying one's child while one does homework is often a concern for students with children, especially at the end of the term. As it gets closer to finals week, students use Portland State's Millar Library more often than at any other time of year.
While many students sequester themselves in the library's study rooms, the library has offered students with children a family-friendly study room on the third floor since the end of 2009. The library recently received a grant to improve this service for students with children.
Now, the room has new furniture and books and repainted walls. The general appearance of the room is homier and more inviting, said Michael Bowman, an interim assistant university librarian.
"Things were getting old and ratty. Everything's new again instead of being beaten on by kids for almost four years," Bowman said.
For many years, students with children would come to the library's circulation desk and ask whether the library offered child care. Now, since it is possible for many students to do the majority of their research on a computer, Bowman said that a study room with computers that is dedicated to student parents is more feasible.
"We can accommodate the parents who can't find day care. It makes sense to have [the family study room] here because we have rooms that can be locked. This is also probably the busiest building on campus, so a lot of people would probably be here anyway," he said.
Tom Bielavitz, an assistant university librarian and father of two young children, was part of the library team that brainstormed what should go into the renovated room.
The Juan Young Trust exists to provide grants to nonprofits that support the health and well-being of children in Oregon. The grant, which is worth $5,000, allowed the library to "improve upon what we already had," Bielavitz said.
The room is now carpeted, and the walls of the long, rectangular space are decorated with black-and-white photos of children of PSU students from the library's archives. A wooden rocking chair sits in one corner of the room, next to a toy kitchen and oven and a child-sized table. Across from one wall's windows is a bookshelf filled with books and toys, including a LeapFrog tablet that provides educational challenges that are entertaining to children.
A DVD player and TV will soon be installed, Bielavitz said.
"Sometimes, as a parent, you have to get your work done," he said, even if it means turning on the TV to occupy your child, he added.
Fliers are arranged on a table near the door of the family study room, advertising "Kid's Night Out," an evening of affordable or free child care at PSU that is put on by the university's Resource Center for Students with Children.
Bowman and Bielavitz are both hopeful that students with children will use the room more frequently. The library's website makes it possible for students to reserve all of the library's study rooms up to seven days in advance, which Bowman said was part of another effort by the library to accommodate students.
During fall term, the keys to the room were checked out 170 times, Bowman said. With the improvements in the room, PSU's librarians expect to see that number increase.