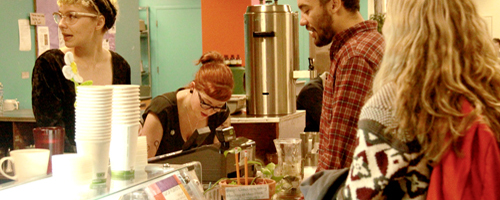 Cafe recovers from flood damage
Food for Thought Café is set to reopen for business Monday morning after getting off to a rough start at the beginning of fall term.
A severe flood caused by sewage overflow from a drain below the first floor of Smith Memorial Student Union led Portland State to lock the cafe's doors on Sept. 19.
The cafe was initially set to reopen Friday after cleaning crews had sanitized and rehabilitated the space, but the pipe that caused the original flood burst another leak, forcing the university to keep the space closed for another round of contamination testing.
This time, however, the pipe itself has been replaced, and after the last set of environmental tests, the cafe has been deemed safe to reopen.
Repairs were estimated at upwards of $75,000, according to Brian Hustoles, PSU Auxiliary Services' associate director for conferences and events.
Despite the setbacks, student employees are ready to put the accident behind them and get back to business.
"The whole thing has been really frustrating and annoying," said Travis West, a Food for Thought employee and PSU senior. "But it is just another episode in what has been a 10-year adventure called Food for Thought."