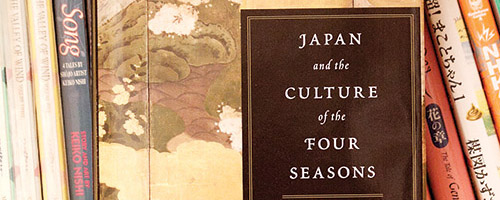 Japanese literature scholar to speak at PSU
Every year, thousands of visitors make their way to the Portland Japanese Garden to take in the amazing sights. Though the sheer beauty of the gardens is an experience unto itself, few visitors come away with a comprehensive understanding of the Japanese connection to the natural world.
An upcoming lecture at Portland State seeks to fill that gap in our knowledge.
This Thursday, Dr. Haruo Shirane, a professor at Columbia University, will deliver a lecture focusing on concepts from his new book, Japan and the Culture of the Four Seasons: Nature, Literature, and the Arts. The book explores the deep connection between the Japanese and the changing seasons through the lens of hundreds of years' worth of literature, architecture, paintings and other artistic media.
"The Japanese have an acute sensitivity to the changing seasons, and it has absolutely defined so much about Japanese literature, about Japanese aesthetics," said Dr. Ken Ruoff, Portland State professor and director of the Center for Japanese Studies.
Shirane is considered a leading academic authority on historical Japanese literature; he has authored several books used in classrooms at all levels across the world, including
Traditional Japanese Literature: An Anthology, Beginnings to 1600.
Jon Holt, a Japanese language and literature professor at PSU, often uses Shirane's work in his lesson plans. Holt's office is overflowing with books in both English and Japanese. From textbooks to manga, decades worth of reading is piled to the ceiling. Shirane's books hold an especially prestigious spot on a high shelf.
"I had to read Professor Shirane's books when I was an undergraduate, when I was a graduate, and when I was taking my Ph.D. general comprehensive exams," Holt said. "In order to prepare for a career in Japanese literature, you have to read his books."
To Holt, it felt less like a requirement and more like a privilege. He speaks with great reverence when it comes to Shirane's work in the field of Japanese literature.
"[Shirane]'s changed the way we read things, what we read and, therefore, what we should know about Japanese literature. He knows so much about premodern literature; not only the classics, but how they are received, how they were thought of by critics and how they were made into the institution of Japanese literature, the canonical texts," Holt said. "Not only does he look at primary texts—the actual stories—but he knows the research, and he also knows how these texts survived as the classic works of Japanese literature."
Though Shirane's work obviously appeals to Japanese scholars like himself, Holt firmly believes that the average PSU student can gain a lot from the event.
The Center for Japanese Studies presents
A lecture by Dr. Haruo Shirane
Thursday, Oct. 4, 6 p.m.
Smith Memorial Student Union, room 328-29
Free and open to the public
"I think what someone will appreciate by hearing Professor Shirane talk is just being immediately plugged into that [knowledge]," Holt said. "I mean, you can read the book, but his talk is really going to connect you with his large ideas."
Boasting the most comprehensive program in the Portland/Vancouver area, the center plays a large role in the strong relationship between PSU and other universities in Japan: PSU shares an exchange program with both Waseda University in Tokyo and Hokkaido University in Sapporo, a Portland Sister City. Ruoff is proud of the center's accomplishments.
"I think that the [center], in the areas of humanities and social sciences, provides an unusually powerful model for the way that PSU can partner with the community for everyone's benefit," Ruoff said.
The CJS has two other prominent upcoming events: on Oct. 18, the center will host "The Global Outreach of Japanese Popular Culture: The Influence of Iron Chef on American TV Programming," a lecture that should prove exciting for any fan of cooking competition television shows. "Gold for the Old? Demographic Change and Economic Growth in Japan and China" is set for Nov. 15 and focuses on the sustainability of both countries' ways of life as their populations continue to increase.
The season is turning once again in the Pacific Northwest, and though the year's reserve of sunny days is dwindling, Holt recommends that you spend at least one evening indoors.
"Anyone who loves the four seasons will get a big kick out of this, though we in Portland only have two, I guess," Holt said. "I imagine that anyone who comes to the talk will almost be transported to Japan and be living in each of those four seasons for a while."