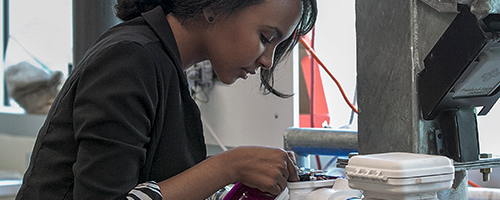 [portfolio_slideshow id=51695]
Graduating Portland State senior Faduma Ahmed-Ali will be accomplishing her dream this summer.
She'll return home to Kenya to help make the water in her country safer to drink.
"I am a true believer [in] hard work, passion and dedication," Ahmed-Ali said.
Ahmed-Ali has seen firsthand the diseases caused by poor water sanitation. Now, along with PSU's Sustainable Water, Energy and Environmental Technologies Laboratory, she will help implement and track a new hand-washing tool.
"SWEETLab's current primary focus is developing and implementing remotely accessible instrumented monitoring technologies designed to improve the collection of effectiveness evidence in global health programs," assistant professor Evan Thomas, the head of SWEETLab, said in an email.
They will work with Innovations for Poverty Action to install and test improved hand-washing stations, Thomas explained.
The hand-washing stations will have SWEETLab-designed sensors attached that will return data on effectiveness and usage, Thomas said.
Ahmed-Ali, who will graduate at the end of the term with a degree in public health, grew up in a Kenyan refugee camp with her family before getting a visa and moving to Beaverton in 2001.
"I gained a passion for public health when I first [realized] there was a water sanitation problem," she said. "I witnessed people dying of small infectious diseases."
In addition to poor water sanitation, lack of education is a very prevalent problem, Ahmed-Ali said. She will be the first in her family to earn a college degree.
"Don't let your past determine your future," Ahmed-Ali said.
Ahmed-Ali admitted that when she arrived in the U.S. and finally began her education, she encountered initial obstacles because of language and cultural barriers.
"Struggle is a learning process," Ahmed-Ali said. "But nothing is challenging until you put it in your mind as challenging."
The people she knew while living in Kenya motivated her to face challenges head-on rather than let them slow her down, she explained. At the end of her high school career, she received a full scholarship to PSU that was funded by both PSU and Beaverton public schools.
"Life experience made me realize there are people still struggling. Just because I had the opportunity to get out doesn't mean I just forget about it. I had an obligation to get my education, and I have an obligation to go back and help," Ahmed-Ali said.
There is a need for greater awareness of the struggles of developing countries such as Kenya, she said. "I want to bring a voice to the voiceless."
While Ahmed-Ali is a strong believer in hard work and dedication, she is also grateful for the support she has received from family and PSU staff and faculty.
"My mom is a huge inspiration. She inspires me every day to not forget where I came from," Ahmed-Ali said.
After taking a sustainability and design class with Evan Thomas, Ahmed-Ali expressed a further interest in the topics they discussed, and eventually became a member of the SWEETLab team.
"Thomas shared many resources with me. I asked and got the opportunity to gain [knowledge of] a technical aspect of public health," she said. She believes that the gap between public health and engineering is too large. As the only public health student in the SWEETLab, Ahmed-Ali believes having an understanding of the technology that provides the solution is key.
Ahmed-Ali also attributes her success to the guidance she received from Lorna Tran of the Louis Stokes Alliance for Minority Participation in science, technology, engineering and math majors.
"Faduma is an incredible representation of the students we work with. She is a rising star," Tran said.
"We focus on academic success, creating a community and…[preparing] students through providing them with a variety of opportunities, such as internships," she said.
An internship that Ahmed-Ali nabbed through LSAMP gave her the opportunity to live in Atlanta, Ga., in the summer of 2012 while working for the Centers for Disease Control and Prevention.
One of only 10 interns chosen out of 410 applicants, Ahmed-Ali said that the experience was educational in more than just public health.
"I didn't think at first [that] I'd be accepted, but [I decided] I would keep trying. Rejection is not an option for me. But after I was accepted, it reassured me I have a place in this world to accomplish my dream," said Ahmed-Ali, who took advantage of the internship by creating relationships and networking.
After graduation, Ahmed-Ali plans to take a break from school and work in her field. However, she does plan to eventually return to college and acquire a master's degree in environmental engineering.
She hopes to one day either work for the United Nations or create her own business working to solve public health problems through the use of technology.
Ahmed-Ali created a nonprofit organization aimed at helping refugees living in Portland prosper in their new community. For more information visit myvoicesomaliorganization.org.

For more information on SWEETLab, visit sweetlab.org.
The LSAMP in STEM majors is open to the 600-plus students at PSU who belong to an underrepresented minority.