PSU professor Denise Fujikawa to play harp at upcoming recital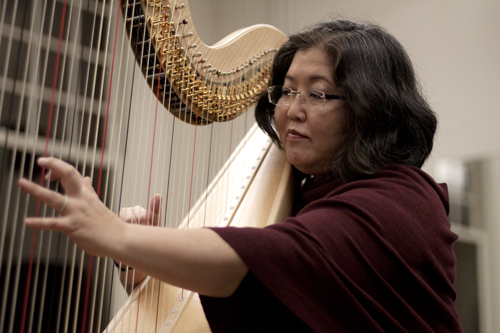 The Portland State department of music's Performance Attendance Recital Series gives students and the community the opportunity to see a free performance every Thursday at noon. This week's performance will be French chamber music featuring the harp, played by none other than PSU professor Denise Fujikawa.
"I think that it's a program that anyone would really enjoy," Fujikawa said. "It's not just for classical music lovers."
The entire PSU department of music is featuring French music this year.
"People can relate to the expressive colors in the French music and the subtleties of sound," said Sydney Carlson, curator of the series. "French music is famous for that."
Chamber music is composed for a small group of instruments rather than a full orchestra. Carlson explained that it has a different feel than music composed for large groups.
"It's like going to a dinner party where everyone is talking amongst themselves and talking within a small intimate group," she said. "You are sharing and exchanging musical conversation."
Fujikawa agreed but used a different analogy. "In orchestra, you're just one spice in a big delicious stew, but in chamber music you're one of the focal points. There's no resting, and it's very intense," she said. "You have to think about every note that you're playing as being so important and how your part fits with everyone else. It's the same thing with orchestra, but it's more concentrated in chamber music."
Fujikawa has been playing music since the age of four but was introduced to the harp later on when a teacher suggested she take lessons from a visiting harp player.
"The minute I sat down at the harp I just realized that it was my instrument. It felt really natural to me," she said. "My teacher always told me that the pluck string on the harp is the closest approximation to the human voice, and because we're actually touching the string, you really feel that resonance."
There will be two pieces performed by student groups, composed by Jacques Ibert and Maurice Ravel. The faculty will be playing two pieces for the flute, sharp and viola. One is a famous trio composed by Claude Debussy.
"I'm thrilled to be doing the Debussy trio," Carlson said. "I've never had the opportunity to play that piece before, and it's something I've wanted to do for a long time."
The second faculty piece was written by Japanese composer Toru Takemitsu, the only non-French composer to be featured in the recital. However, his piece was inspired by the Debussy trio.
"It's an interesting take on the original piece," Fujikawa said. "Most people would be hard-pressed to find the similarities beyond the orchestration. It's a very beautiful piece and quite romantic in style."
Carlson explained the similarities. "It has sharing of materials," she said. "The poetic feel of the piece is the same, yet it is more modern and more abstract than the Debussy. But it has many of the same harmonic values."
All music students are required to attend eight of the Performance Attendance Recital Series. On the back of each program, they answer three questions about the performance. In this way, student performers are given valuable feedback.
"The performers get those student reviews, and so we see what the students like and appreciate," Carlson said. "And that also engages the student in listening and creates a more active listening experience for them."
"There are different areas within the music department, and we don't always cross paths with one another," Fujikawa said. "It's great that we can expand our horizons by listening to different areas and also to support one another. It's important in a community that we go to hear one another's performances."
However, music students are not the only ones who attend. Other students are free to attend, as are members of the community.
"As a performer, it's fun because it's a completely full house," Carlson said. "That's a great field of energy within the hall."
Fujikawa said that the best part about this performance series is that it's free.
"You're lucky to get a really high level of performance for free," she said. "Even if you don't like something the first time you hear it, it stimulates you."
Carlson noted the diversity of performances in the series. "There is something for everyone. There are certain elements that some students may never have heard before. They may have never heard a harpsichord or never heard electronic music before," she said. "It's our opportunity to bring something fresh and new to the student body, the listening audience."
These weekly performances, while educational and interesting, can also be a relaxing change of pace for many students.
"I think that when you're really stressed out, it's good to put your mind in a different space. Music is one of the perfect things to lift you into another sphere of consciousness, whether or not you are transported by its beauty or just puzzled by the sound," Fujikawa said. "If you're not in the music world, being able to see live performances, see instruments and be that close to a performance is really a great opportunity." ■
The Portland State department of music presents
Denise Fujikawa: French chamber music featuring harp
Thursday, Jan. 26
Noon
Lincoln Hall, room 75
Free and open to the public