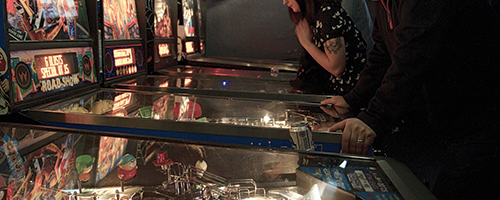 Sometimes a drink and a couple of friends or co-workers isn't enough to guarantee a fun night out. Sometimes the only way to enliven a dud of a night is to inject some competition into the proceedings. Here are five top spots to get your game on in Portland.
Encore Poker Club
535 NW 16th Ave.
503-206-8856
If you want to save the money you'd blow on a trip to Vegas, consider gambling in town. Open for nearly two years, Encore Poker Club is a social gaming club that provides a Vegas-style atmosphere complete with a casino-style poker room, full service bar and lounge.
Other features include a big-screen TV, free Wi-Fi, video games and board games. Poker tournaments start as early as noon and continue until 3:30 a.m.
Ground Kontrol
511 NW Couch St.
503-796-9364
With more than 60 classic video games, 27 pinball machines and a full-service bar, Ground Kontrol remains the Northwest's premier arcade bar. If you're one of those guys or girls who spend hours relentlessly glued to the latest Call of Duty or are obsessed with classic Donkey Kong, this two-story, arcade-loving hell-raiser of an arcade offers the perfect fix. Ground Kontrol's bar is open until 2:00 a.m., so stock up on beer, wine and video games, because the only time drunk driving is acceptable is when you're playing Cruisin' USA.
Rialto Poolroom
529 SW Fourth Ave.
503-228-7605
Open since 1920, Rialto is Portland's oldest and largest pool hall, and was named best dive bar in America by Playboy magazine. In an upscale setting, Rialto combines a good number of pool tables, patio seating and a full bar. It offers private parties and a delicious menu of tasty appetizers like greasy potato melts, oyster shooters and a hummus plate. If you feel like sneaking off for a little private time, The Jack London Bar is Rialto's underground parlor, located at the back end of the bar. It's a great place to wind down with friends, shoot some pool and throw back cheap beers. Stop by for two hours of free pool all day Monday.
Sam's Hollywood Billiards
1845 NE 41st Ave.
503-282-8266
Located in Portland's Hollywood district, Sam's is your classic pool bar that does it better than anyone in town. Home to many professional pool players and leagues, it offers thirteen vintage Gold Crown tables and an assortment of entertainment including poker, pinball and trivia.The dim lighting and rich colors make Sam's a comfy atmosphere for hanging out with your pool-loving friends. They make sure not to let their customers go hungry by offering breakfast, lunch and dinner seven days a week.
Slabtown
1033 NW 16th Ave.
971-229-1455
For all you fast-talking, vegan-eating, game-loving freaks, Slabtown offers a perfect mixture of entertainment like pinball, air hockey, pop-a-shot and Skee-Ball. Greasy falafels and gyros are also on the menu. Every Thursday at 5 p.m., Slabtown serves up a free, first-come-first-served pinball extravaganza and switches it up between blaring live rock 'n' roll bands and karaoke nights from hell.