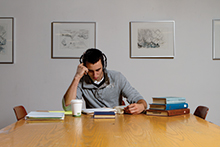 If you don't want to spend your school year sitting on a lumpy bed, computer propped on your lap, trying to study as your roommates blast their horrible music, there are a plethora of other options—you just have to know about them! There's nothing better than finding the study spot that's perfect for you, so here are some suggestions.
ON CAMPUS
Millar Library
Millar Library caters to both the introvert and the extrovert: There are 27 group study rooms that students can reserve, and both the second and third floors have an open floor plan with wide tables.
If you're lucky, you could nab one of the window desks that overlook the South Park Blocks. If it's absolute silence you want, then the fourth and fifth floors are for you: the quiet zones. There are quirky little individual desks set up all around that make you feel like you're in your own little pod, and the silence is drippy delicious, like a chocolate sundae.
Be sure to check the finals schedule as the end of the term approaches; usually the library has extended hours.
Smith Memorial Student Union
If you like studying in a social atmosphere, then here's some Food For Thought: Located in the basement of Smith Memorial Student Union, this student run, hippy-dippy cafe is definitely worth a visit, if only for the kombucha on tap!
The decor isn't anything to write home about and, being in the basement, there's not necessarily a fresh-air feel, but they do have a stuffed, pink-maned unicorn, which kinda makes up for it. Coffee is only a dollar, and if you have exact change you can skip the line, drop it in the cash box and help yourself.
Food For Thought is a great place for group study, and the vegan/vegetarian menu is super affordable and healthy if you need some brain food. The piano that sits on the raised portion of the cafe is a clue that it's not the place for quiet study, but their sign promises "no robotic, fake Starbucks smiles." So there you go!
On the second floor of Smith you'll find the student lounge, above the din of the downstairs food court. Next to huge, floor-to-ceiling windows, you can snuggle into a comfy chair, put your feet up and watch passers-by. There are lots of little two-person tables along the hallways for a more intimate feel. The upside is there is lots of natural light, but the downside is the lack of electrical outlets. Also, it can get a bit noisy, as it seems to be a favorite place of linguistics students who like to loudly display their skills.
Ondine
Ondine is easy to miss if you don't live on campus. Room 204 is a great alternative to the library if you're looking for a smaller, more personal space. With its comfy lounge area overlooking the street, University Success provides a quiet but easy-going place to study. There's a computer and printer available, as well as tutoring and writing help.
On the one hand, it's not a huge space and can fill up quickly, but on the other, it's open until 10 p.m. for nocturnal studiers.
Outside
Finally, while the weather is good, take some time to enjoy studying outside in the South Park Blocks. There's no better place to feed your brain with much-needed oxygen, and enjoy the sounds and smells of nature. There is seating all around, albeit not the most comfortable, but it definitely beats being at a computer all day.
OFF CAMPUS
Chit Chat Café
Located on the corner of Southwest Sixth Avenue and Hall Street, Chit Chat Café is close enough to feel like it's on campus and far enough to feel like you've escaped.
Starting at 7 a.m., a friendly barista serves up the breakfast special of a ham and cheese bagel and coffee for $4.75, and you get your choice of a number of oversized couches or chairs where you can spend hours on the free Wi-Fi while you're supposed to be studying.
If you bring your own cup, you pay only 25 cents for a coffee refill. While it's no Stumptown Coffee, this will do when all you need is a jolt of caffeine. There's no loud music to tune out and, though it's not fancy, it's a place where you feel everyone will soon know your name.
Chit Chat closes at 8 p.m. on weekdays, so if you're gonna pull an all-nighter, you'll have to find somewhere else.
The Contrary
If you're walking up Southwest Fifth Avenue between Hall and Harrison streets, and you blink, you may miss the tiny hole in the wall also known as the Contrary.
A tiny neon "Espresso" sign is all that announces its existence, so you'd be forgiven. A secret far too well-kept, it's small and would fit perfectly on the set of Portlandia, not just for its amazing coffee and the quirky, slightly gothic ambiance but also for the eclectic music set at just the right volume and the awesome acrylic-on-wood art that covers its walls.
It gets super busy at "coffee o'clock," according to friendly, Brooklyn-bred owner Kerry—a line can materialize in a matter of seconds. If you want to know how hobbits feel when they're studying, you'll love this place. Just don't tell your friends about it. It's got free Wi-Fi, but it closes pretty early, so it'll have to be a daytime study spot.
Broadway Coffee and Tea
Another nearby place that's perfect for a study session is Broadway Coffee and Tea. The owner of 16 years just smiles when you ask him when it gets busy, responding wryly, "When does class get out?"
It doesn't look like much from the street but goes way back to a tucked-away couch area where you might get some uninterrupted quiet. With homemade chai on the menu as well as really friendly service, this coffee shop may quickly become your favorite haunt. There's a beautiful wall poem welcoming patrons, and the best part? Refills get cheaper as you go—down to 25 cents. Can't beat that.
Peet's Coffee
No, it's not a small, local, no-name coffee shop and yes, the baristas can be a bit snooty, but let's face it: Sometimes you just want a nice, clean place. On the corner of Southwest Washington Street and Broadway, you'll find Peet's Coffee. What it really has going for it is a spacious, open-plan seating area with a few secluded, street-view spots. If you're an early riser and want to get some studying in before class, Peet's opens at 5:45 a.m. on weekdays.
There's free Wi-Fi, but it's kind of annoying that you have to get the code from a barista. It gets a bit noisy once all the commuters pour in for their cuppa joe, but generally the volume stays at a reasonable study level.
Powell's Books
Finally, if you're fed up with all the early-closing coffee shops in Portland, hop on your bike or the streetcar and pop into the Powell's Books mothership on West Burnside and 10th Avenue.
It has everything you need: great coffee, rooms and rooms of books and…it's open until 11 p.m. every night! There's a bunch of seating in the café area, but you can also curl up on the floor of whatever color-themed room you fancy and generally be surrounded by the sound of pages turning and the musty aroma of delightfully old and new books.
Powell's just oozes intelligence, and you feel that just by being there some will rub off on you.