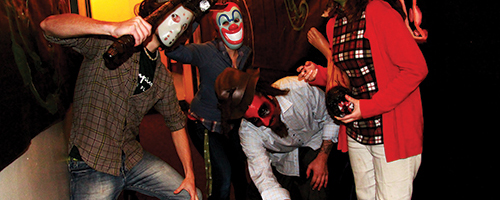 Portland State campus gets spooky for Halloween
Are you looking to get the most out of your Halloween this year? PSU campus is getting a creepy makeover this weekend that is sure to delight with its spooks, haunts and ghouls.
Among several events on campus this weekend, PSU Housing and Residence Life is hosting Campus Nightmare, a haunted house. In addition, PSU's Academic and Student Rec Center is hosting a zombie dodgeball tournament.
These events are "for students who live on campus but feel a lack of community," said Matt Lewis, head of Housing and coordinator of Campus Nightmare.
Campus Nightmare will be on Saturday, Oct. 27, from 8 p.m. until midnight. The haunted house is located in the Montgomery Court Residence Hall at 1809 SW Park Ave.
The event costs $3 for the public, while Portland State students pay $2, and all proceeds go to Outside In and the Ken Irwin Memorial Housing Scholarship Fund.
The themes are tied to every college student's worst fears; school spirit, the library and health and wellness nightmares are a few examples.
Thrill-seekers who love to be frightened by actors in costume and makeup will love Campus Nightmare. However, for those groups with smaller children, there is an alternate route that avoids the most startling sections.
The haunted house was operated for six years until 2010. After two years off, it's back this year thanks to 39 Housing staff members and 57 student volunteers who are participating in the production of this event.
Portland State campus needed more activities for students spending holidays on campus, Lewis said.
Students looking for a fun way to kill some time before it gets dark on Halloween can play in the Rec Center's first zombie dodgeball tournament.
The game will take place on the Rec Center's Mac Court on Oct. 31, from 6 to 9 p.m.
The event is free for all PSU students, so simply show up in your best zombie costume with three teammates to play.
The tournament is bracketed and will be single or double elimination based on the number of participants.
With games lasting anywhere from less than a minute to 15 minutes the tournament will be fast-paced, and prizes will be awarded to the tournament champions. The team in the best zombie costumes will also win a prize.
"We are hoping to encourage costumes," said Spencer Sorensen, coordinator of the game and other Rec Center activities. Like Lewis,
Sorensen hopes to provide a sense of culture and community for students on campus.
People of any skill level will feel comfortable playing, Sorensen said. He hopes that the tournament will draw those students who don't normally spend time at the Rec Center in addition to gym regulars.
Sorensen notes: "Anyone can play. Come have some fun!"