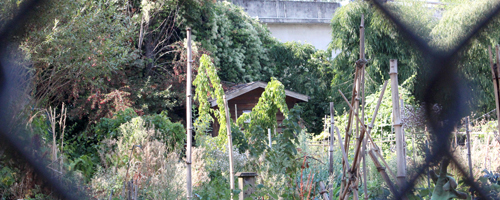 Green-minded campus lacks organic garden
Across the country, organic gardens are being worked into the campus landscape. In the Northwest alone, rows of veggies are tucked in a five-acre plot at Evergreen State College in Olympia, Wash. The Urban Farm at the University of Oregon is 1.5 acres.
Looking farther, the urban garden at Kendall College in Chicago produces between 2,000 and 3,000 pounds of food per year, just a mile from one of Illinois' busiest interstates. Though the Portland State Sustainability Leadership Center map marks seven campus gardens, most are not vegetable gardens—some have herbs or trellises of strawberries, but there is no urban farm here. While food grows on or near campus, why isn't PSU following suit?
The answer is complicated and involves space, logistics and safety. Now, a patchwork of smaller projects yield a small harvest of food.
Some success
Where an exit off I-405 snakes away from US-26 and heads behind Stephen Epler Residence Hall, a modest, block-wide swath of exposed earth looks like a mirage amid gray asphalt. Dug up in 2005 and 2011, respectively, the community garden and orchard at Southwest 12th Avenue and Montgomery Street is fenced and padlocked. The garden shed is nestled among trees growing under the belly of an interstate overpass. The 48 plots in the community garden are leased for free to on-campus residents. As of mid-September, some plots need weeding or have been abandoned. A few plots are bare—one six-by-four-foot bed coddles a single aloe vera plant. The orchard smells of hay and engine oil. Keith Nevison, a PSU environmental studies graduate, former garden liaison and principle creator of the orchard, said soil testing has confirmed the earth here is safe. But, "I'm cautious," he said. "A lot of students want to grow a lot of edibles [on campus]." That is not always practical, Nevison explained. Aside from concerns with soil toxicity, the real impediment is construction.
Natural and man-made barriers
Even if the university had space for an organic garden, physical limitations exist, Nevison said. "You will dig down three or four inches and hit sheet metal, glass, brick and other construction debris."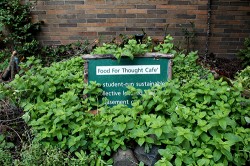 To save money, he said, construction companies have buried their waste on campus, and covered it with topsoil. While other urbanites might look to rooftops for veggie plots, in the Northwest garden roofs are tricky, he explained. "Rooftops generally make terrible places to grow food because they get baked in the summer. And vegetables take incredible amounts of water." Green roofs range from lightweight three-inch ground covers—like on the roof of the Montgomery Bike Garage—to human-accessible parks. The weight from a rooftop garden can exceed engineering limits, especially for older buildings. Add rainwater and an unstable roof will collapse. So buildings must be inspected before gardens can be installed. Food-producing roofs may have a part in PSU's future, said Ernest Tipton, PSU's campus design and planning manager. "The vegetable garden idea is something I've been talking about with a lot of other people," he said. "It's really interesting." In the future, Tipton believes PSU will design new buildings with garden-topped roofs and food-growing means built in. He declined to say how soon PSU intends to implement such designs, but said, "It is something that is on our radar, and there is very good possibility for it."
Looking ahead
A new project launched on Saturday, when installation began on an intensive green roof—meaning it will allow human access and the soil depth will be upwards of seven inches—on top of Cramer Hall. Only 5 percent of the 1,920 square foot green space will be edible, though, and access is limited.
So while PSU has no rolling farmland, "We're at or near the top of any [urban] university," Nevison said. The goal at PSU, he said, is not to compete with richer colleges with better soil and more room, like Kendall College, but to have demonstration gardens that suggest why people should care, and how.
Professor of Educational Leadership and Policy Dilafruz Williams agrees: "[Campus gardens] are symbolic of what the university community cares about. If we grow these things on campus, students walking by will be curious and will get drawn in," she said.
Benefits beyond food
The positive effect of even a small garden is not just personal. The baby fruit trees in the community orchard are bioremediators—they pull toxins out of the soil. Nevison also hopes the orchard will link PSU to nonprofits like Portland Fruit Tree Project. A partnership with PFTP would ensure the orchard harvest goes to a good cause—to supplement meals composed of mostly processed foods served at food banks downtown.The orchard site is also a lesson in urban reclamation. Leased from the Oregon Department of Transportation, the site was previously overgrown and littered with drug paraphernalia. Cleaned up, the land could be an education site where students learn proper tree care, and pruning and grafting techniques. The model is unique, said Heather Spalding, PSU's sustainability leadership and outreach coordinator.
Originally, the Food For Thought Café garden alongside the Smith Memorial Student Union wrapped around the building's west side. According to Suzan Wilson, the lead campus gardener, landscaping took over the space when students failed to keep it alive. "It is very typical of students to start projects and abandon them," she said.
Some students even take to renegade measures, starting guerrilla gardens that, by nature, are thrown into the soil and left to nature's tending. Whether they throw out the seeds of vegetables, like tomatoes, or dogwood shrubs, "they don't make sense. They are stuck at odds and ends, and we can't leave them," said Wilson.
A collision of needs
While the university cannot grow all its food, and while students will start things they will not finish, the university has a unique responsibility to teach students about soil, food and human well-being, Williams said. "I was an elected official for eight years on the Portland School Board. One of the things I constantly brought to the discourse was the issue of sustainability. It's just not something people are addressing—they're not bringing it to the educational realm."
Williams authored the book Learning Gardens and Sustainability Education: Bringing Life to Schools and Schools to Life. She is the founding director of Learning Gardens Laboratory, a 12-acre garden education site and PSU partnership on Southeast 60th Avenue that hosts myriad capstone courses for PSU students.
"The discourse of education is traditionally the discourse of closing the education achievement gap," Williams said. "The other discourse is about getting on the bandwagon of technology. Both are important. [But] I believe that the next frontier is [in the soil] right under our feet. We are not going to be able to eat computers."