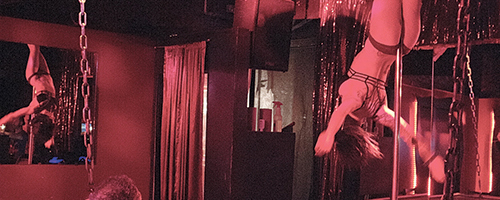 What do you, Chris Brown and T-Pain have in common? The unrelenting, deep-seated desire to visit a strip club. Strip clubs need no introduction, so without further delay, here are five strip clubs in PDX suitable for anyone's taste.
The food-oriented:
Acropolis Club
8325 SE McLoughlin Blvd
Acropolis Club is the place to go if you're looking to get wet—whet your appetite, that is. This venue comes with a fully stocked bar, and the steak is highly recommended.
No need to mention the ridiculously cheaply priced food here. Oh yeah, strippers included.
For keepin' it (relatively) classy:
Magic Garden
217 NW 4th Ave.
Classy, different, deviating from the strip club norm: This next strip club does one, two or all three of these things, depending on whom you ask.
Magic Garden has certainly garnered mixed reviews through the years. Some say it's dirty, boring and grungy, others enjoy the relaxed atmosphere.
One thing is certain, however: If you're looking for a venue in which you can enjoy a nice drink at the bar and just happen to have a nude woman dancing in the background, then this is the place for you.
If that's what it takes to make you feel classier, then embark on a journey to the
Magic Garden.
Most popular:
Devil's Point
5305 SE Foster Rd.
After consultations, ratings and word of mouth, it became clear that Devil's Point is one of the most popular strip clubs in Portland.
According to their website, Devil's Point "has everything you need: lascivious ladies, video poker and world class DJs that bump everything from Hank Williams to MIA."
Anyone whose vocabulary includes "lascivious," has a fully stocked bar and partakes in "Stripparaoke" (people can sing karaoke with the dancers) gets full stars in my book.
The penis-oriented:
Silverado
318 SW 3rd Ave.
Ever wish Magic Mike had been in 3-D? Well, this club is the next best thing.
Silverado is one of Portland's best-known gay men's strip clubs. Featuring chiseled abs, cut v-lines and "sexy" tribal tattoos, the dancers at this club are all male and would love to rock your world. Yes, please.
For the shut-in:
Hunks & Babes
(877-707-5353)hbstrippers.com
Don't feel like being social but would still love naughty bits in your face?
If you are too lazy to make your way to a strip club, the next best thing is hiring a Portland stripper to come to you.
There are many services at the tips of your fingers that can make it happen, and one that comes well recommended is Hunks & Babes.
Isn't the 21st century swell?