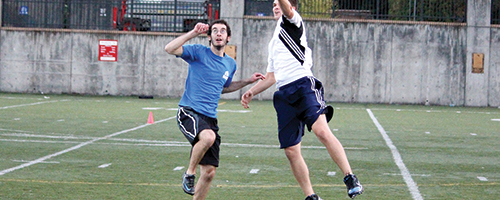 Ultimate Frisbee club prepares to host tournament
Portland State's Ultimate Frisbee club will begin their tournament season Oct. 20 at Peter W. Stott Community Field, where they will host multiple other clubs. Tournaments consist of men's and women's divisions; practices are coed. With less than a month to prepare, they have gotten down to business.
As the club holds its first practices of the fall, a flock of new players listens to instructions from coaches and returning players. This is a welcome sight for a team dealing with a lot of turnover thanks to graduation and injury. Earlier in the year the practices focused on fundamentals, from different types of throws to offensive formations.
For those unfamiliar with ultimate frisbee, the game features field dimensions and rules similar to both soccer and football. The team on offense can pass the disc in any direction as they work toward the opponent's end zone. While ultimate frisbee is a club sport and is open to anyone, there is more to it than meets the eye. "I think people sort of knock it off as a very relaxed sport," club Vice President Peter Pham said. "When it gets down to it, I think the throwing and the strategy is very technical."
Offensive formations organize the space on the field so that certain players (cutters) can find open space to receive a pass from those who begin a possession with the disc (handlers). Defensive strategies usually aim to leave one side of the field open for the opposing team while closing off the other. Ideally, this corrals the cutters, eliminating space and forcing turnovers. As with most sports, turnovers create opportunities for big plays.
Ultimate practices take place at Stott Field on Mondays and Fridays from 4–5:30 p.m. The club also reserves the field for community pick-up games on Tuesdays, Thursdays and Fridays at noon.
"A lot of people seem to be interested. I see a lot of hard work, and more importantly everyone's having a lot of fun," Pham said.
Those interested can visit psu.pdxultimate.org.