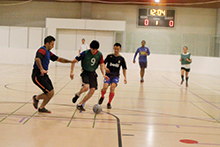 Many students leave behind their athletic aspirations when they begin college. It's understandable—your papers are due, your part-time job eats up your weekends—but you don't have to quit playing sports.
Without adding too much stress to your schedule, intramural leagues allow students to play basketball, soccer, volleyball, flag football and dodgeball.
"It can be a lot of fun, and you can meet a lot of people," said Intramurals Coordinator Spencer Sorensen. "You should be able to go to most of your classes during the day, and it is a good outlet at night."
Located in the Academic and Student Rec Center, the intramural department has information about all of the different recreational sports you can play at Portland State. This fall, four-versus-four volleyball will be offered, along with soccer and football.
Registration for fall sports starts on the first day of the term, Sept. 24, and closes Oct. 4. Also, students should be on the lookout for the Halloween dodgeball tournament put on by the department.
When signing up for a sport, students can register a team they have already put together, or individuals can sign up as free agents and get picked up by teams on game day. Each sport costs around $40 per team, or $5 for a free agent player.
For most, getting involved on campus is important, and PSU Intramurals makes it easy. All sports equipment is provided by the school. Students just have to show up wearing something they can play in.
"It's a great program to be involved in," said Salvador Ulloa, intramural sports and special events coordinator. "You can make some friends and get some exercise in. A lot of students come in and don't have a way to exercise or use the Rec Center to its best capacity. [The intramural program] makes sure that they have a feel of where they can go and work out."
To learn more about the program, go to the Intramurals office in the Rec Center, or visit their website at pdx.edu/recreation/intramurals.