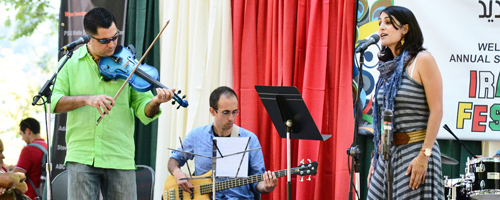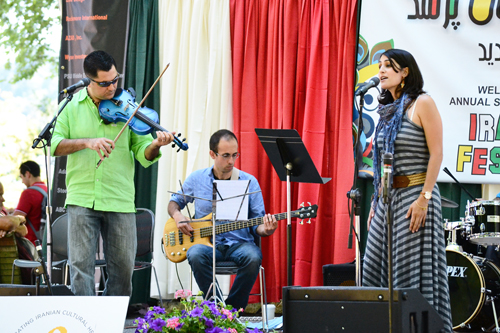 On Saturday, Aug. 3, the 14th annual Iranian Festival took place in the South Park Blocks next to the Farmers Market. The event was put on by the Andisheh Center, an organization that connects Iranian-Americans and others to the cultural traditions of Iran.
The festivities included Iranian music, food, dancing and games.
Said Amali, the president of the Andisheh Center, said that the purpose of the yearly summertime festival is "to showcase Iranian culture and art to the general public."
The festival drew a large crowd, and this year both the booth and sponsor counts reached all-time highs. A tent from Portland State's Middle East Studies Center joined numerous others at the festival.
Massoud Saberian, one of 30 festival organizers and volunteers, noted that the Iranian community in the Portland area has been steadily growing. Part of the festival since its smaller beginnings, Saberian explained that the event has grown exponentially over the years.
"[The event has] been well-received, and it's not just for one group," Saberian said. "It's appealing to many people of [many] differences."
This year Saberian manned the game booth, offering people a place to sit and play chess and backgammon, the latter of which originated in Iran.
Other booths present this year ranged from those providing back massages and henna art to others spreading the word about nonprofit educational leadership programs.
Selene Saraf, a youth ambassador for Iranian Alliances Across Borders and a student at Union High School in Camas, Wash., recruited people for the program and shared information at her booth.
Saraf has been involved with the program since 2011 and noted that the IAAB has helped her love being Iranian despite having to face stereotypes.
The mission is of IAAB is to "make Iranian-Americans more noticed as a minority, and to break the stigma," Saraf explained.
Saraf plans to dedicate more time to working with IAAB, possibly becoming a counselor at Camp Ayandeh, the annual Iranian-American leadership camp, after she has graduated from high school.
Following music and dance performances by Iman Sani, Mostafa Khaknegar and the Delshodeh Dance Ensemble, the Iranian American Professional Society of Oregon held their annual scholarship reception and fundraiser honoring high school graduates from the class of 2013.
Several scholarships went to Maysa Shakibnia, a graduate from Corvallis High School and incoming freshman at Oregon State University. Shakibnia was awarded the Rad Family Scholarship, the Shadbeh Athletic Scholarship and the IAPSO's Graduating Seniors Scholarship.