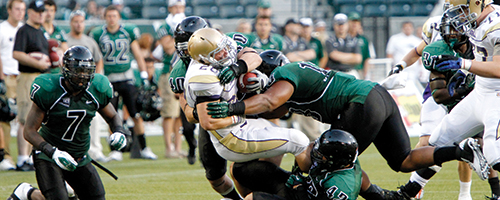 The state of Vikings football heading into Big Sky schedule
Portland State football opened conference play on Saturday against Big Sky newcomer Southern Utah at Jeld-Wen Field. Prior to the game against the Thunderbirds, the Vikings had already played three non-conference matchups.
The home opener against NAIA powerhouse Carroll College yielded a tough victory for the Vikings. The next weekend, a road trip to North Dakota ended in a close defeat as PSU's comeback bid ran out of time. Last Saturday in Seattle, Portland State's first-ever game against the Washington Huskies proved to be a blowout.
It has been a tale of two halves for the Vikings, who have been slow to get to speed in games. Outplayed 92-45 in the first half, PSU has clamped down in the second half. The Vikings outscore teams 42-25 after halftime and 37-8 in the fourth quarter yet enter Big Sky play at 1-2.
"We need to make sure we execute better early on in the game," head coach Nigel
Burton said during the weekly Big Sky media teleconference. "It's funny because we were the exact opposite team last year. We jumped on teams very early and then didn't know how to finish people off."
The good, the bad and the ugly from intersectional play
Sept. 1 vs. Carroll
2012 Portland State Vikings starters
Offense
LT 69 Kyle Ritt
LG 77 Cornelius Edison
C 66 Mitch Gaulke
RT 75 Joey Esposito
RG 58 John Archuleta
QB 4 Kieran McDonagh
TE 12 Kalua Noa
RB 10 D.J. Adams
WR 83 Alex Toureen
WR 84 Justin Monahan
WR 87 Keitrell Anderson

Defense
DE 90 Nick Alexander
DT 70 Dereck Jester
DT 53 Zack Ka'ahanui
DE 7 Marquis Jackson
SLB 6 Jaycob Shoemaker
MLB 52 Khalil Bass
WLB 40 Ian Sluss
CB 5 Aaron Kincy
FS 42 Joel Sisler
SS 25 Michael Williams
CB 24 Dennis Fite
(returning starters in italics)
GOOD: Portland State eased in new offensive playmakers in a 38-20 victory. Running back D.J. Adams, a transfer from Maryland, had a 46-yard touchdown run and averaged nearly six yards per carry. New quarterback Kieran McDonagh threw for 192 yards and two touchdowns in his first game as a freshman.
BAD: The defense allowed 343 yards to an NAIA opponent and was kept on the field for nearly 38 minutes. The offense was forced to punt on six three-and-out drives.
UGLY: Preseason All-American kicker Zach Brown suffered a knee injury after his PAT in the first quarter.
Sept. 8 @ North Dakota
GOOD: Despite losing 45-37, the Vikings outgained UND by over 100 yards on offense. Adams led all rushers with 144 yards on 16 carries. McDonagh was 21-of-41 for 301 yards and a trio of touchdown passes, with receiver Justin
Monahan catching six for 156 yards and two scores.
BAD: The team also committed 12 penalties, had two blocked field goal attempts and a blocked punt along with two interceptions.
UGLY: The defense allowed six touchdown passes to freshman quarterback Marcus Hendrickson. A listless defensive effort led to the dismissal of defensive coordinator Eric Jackson.
Sept. 15 @ Washington
GOOD: The Viking offensive line protected McDonagh, allowing no sacks to the UW defense. Senior receiver Nevin Lewis had three receptions for 83 yards, including a 70-yard catch-and-run for a Portland State's first touchdown.
BAD: Washington scored on seven of their eight first-half possessions to run away with a 52-13 victory. The most consistent Vikings performance came from punter Thomas Duyndam, who was forced to punt five times in three-and-out situations yet managed a 42.6-yard average.
UGLY: Those long punts only served to boost the Huskies' stats. PSU was never in the game. With less than four minutes gone, the Vikings were down 14-0. By halftime the score was 45-0.