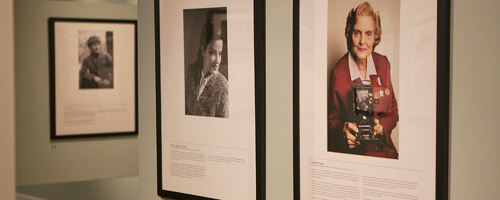 [portfolio_slideshow id=47295]
The Oregon Jewish Museum is bringing together collections of work focusing on both the past and the present, the political and the painterly.
Beginning this week, the museum will open a pair of exhibitions, each featuring Jewish-themed work. A series of World War II-era photographs titled "Pictures of Resistance: The Wartime Photographs of Jewish Partisan Faye Schulman" will be shown, along with the mixed media work of local artist Sidonie Caron.
Caron, a painter who has shown throughout the Pacific Northwest, will display her Jewish-themed work in an exhibition titled "We Are Our Brothers' Keeper." Both exhibitions, which began last week with an opening reception, will run through April 24.
"The partisan show is really remarkable," said the museum's curator of exhibits, Shoshanna Lansberg. "This was a female photographer and a partisan fighter during World War II. The sheer difficulty of her situation as a woman in that time and place makes it pretty powerful in that respect."
Born in pre-war Poland, Faye Schulman was spared by the Nazis during the German occupation because of her skills as a photographer. She escaped, however, joining a Russian partisan brigade. There, she served as a nurse and a photographer, documenting the many aspects of their struggle.
"She would have to bury her camera and her film at times," Lansberg explained. "They were moving around all the time because secure areas came and went. It's really remarkable that her photos survived."
Schulman currently lives in Toronto. The partisan exhibition is part of a traveling show developed by the Jewish Partisan Education Foundation, an organization working to educate people on the lesser-known side of Jewish rebellion against the Nazis during World War II.
"These Jews were responsible for blowing up thousands of armored convoys and thwarting the Nazi war machine in countless ways," according to the foundation. "This information has the power to transform people's perception of the Jewish experience during the Holocaust."
The concurrent work on display, by Portland-based Sidonie Caron, will feature pieces from her career as a fine artist. Her paintings range from the abstract to minutely detailed landscapes and figurative works.
Though her overall body of work covers a range of subject matter, Caron will exhibit her specifically Jewish-themed material at the museum—work, she explained, that doesn't often get shown elsewhere because of the subject's specificity.
"I've mostly just kept it over the years," Caron said. "The Jewish community was very small at the time, and there was no audience for this work."
Caron also explained that this body of work developed when she and her husband began to explore their heritage in greater depth after their son moved to Israel. Her husband studied and wrote and she took to the brush.
The museum wanted to showcase work, like Caron's, that has not been widely shown.
"Part of our mission is to make sure we're highlighting work not seen in other places," Lansberg said. "She calls this her Jewish-themed material. This work highlights her personal connection with her family. For me, it highlights the connection between the old world and the new. Some are seen as ruins, some in their current state."
Many of Caron's works feature places—various synagogues, or Jewish temples, throughout Europe and the Middle East. One work features a Greek monastery tucked into the desert. Others feature temples in such places as Budapest, Poland and Berlin.
Oregon Jewish Museum presents
Pictures of Resistance: The Wartime Photographs of Jewish Partisan Faye Schulman and Sidonie Caron: We Are Our Brothers' Keeper
Feb. 27–April 24
1953 NW Kearney St.
$6 adults, $4 students, free for members
For museum hours and more information go to ojm.org
"I did a series of European synagogues that are absolutely historic," Caron said. "Not many of them survived the German occupation during World War II."
But Caron noted that her Jewish-themed work is only one aspect of her overall body of work. She also paints vivid depictions of Portland and its surroundings. She ties her work to her overall approach to making art.
"My emphasis has always been on growth and development," she said. "I want to explore things and respond to my environment. In my work, I go back and forth and move around."
Located in the Pearl District, the Oregon Jewish Museum works to educate visitors about the Jewish experience through an assortment of exhibitions and programs.
"We really see our work as preserving the history of the Oregon Jewish experience," Lansberg said. "We want to show that there is a distinction, but also there is a lot of connection to other aspects of the community. We like to balance our historical content with our art exhibitions."
In addition to exhibition, the museum also features programs such as lectures and films, often tied to their shows.
To tie in with the Schulman exhibition's partisan theme, the museum will screen Edward Zwick's 2003 film Defiance, which depicts the lives of partisan fighters.
Screened in collaboration with PDX Hillel, the museum will show the film tonight.
"Defiance is a free screening," Lansberg said. "If students are interested in attending, we'd love to see them."