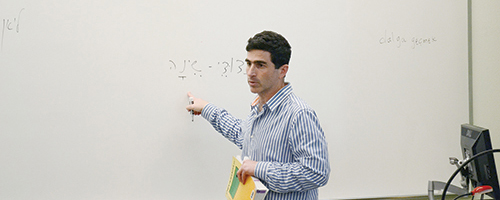 [portfolio_slideshow id=48532]
The Harold Schnitzer Family Program in Judaic Studies at Portland State was the recent recipient of an anonymous, $250,000 donation that will establish an endowed, need-based scholarship fund for students majoring or minoring in the program.
The scholarship, which will debut alongside the program's new major during the 2013–14 academic year, will be directed toward tuition and fees and will aim to support one student per academic year, though the award's scope may be adjusted in the future at the discretion of the program's faculty. Because the donation is an endowment, only the interest generated on the donation can be awarded to students. For that reason, the exact amount of the first award remains under consideration.
"What the annual scholarship will provide will vary slightly from year to year based on the economy," said Jenn Knudsen, the associate development director for Judaic studies. "We can count on $9,500 per year to a Judaic studies minor or major degree student," she said.
"The donor's intent was that, as much as possible, the scholarship would cover tuition and fees for one student per year."
The new scholarship is the fourth currently offered by the program, which has about 500 local donors, according to Knudsen.
"As far as donation type, it's all across the board," she said. Donations often come from members of Portland's local Jewish community, and usually range from $18 and multiples thereof to pledges of many thousands of dollars given over several years, which can be arranged through the program's City of Knowledge Supporters Circle.
Giving "speaks to the [donor's] goodwill and the program's popularity in their minds," Knudsen said. "Students like knowing that we in our small program can offer some kind of assistance."
While the program is indeed small, its growth over the last few years has been notable.
"In comparison with how the departments usually grow, ours has grown particularly rapidly," said Natan Meir, the Lorry I. Lokey Associate Professor of Judaic Studies. "I arrived here five years ago, and before that there was one professor on board," he said. "Within five years we've grown to four full-time faculty and a major; that's pretty unusual. It's very rapid."
The major itself will require three years of Hebrew as well as two core courses: the two-quarter "Jewish History Survey," which will concentrate on Jewish history from antiquity to the present, and the one-quarter "Introduction to Judaism."
Once these requirements are met, "it's really up to the individual student [to decide] what path they're going to take," Meir said. "We have a number of different concentrations," that students can pursue, he added, saying that literature, culture and history tracks are among those being considering for inclusion.
The program currently offers a minor, and the relationship between it and the major may be adjusted as the program matures and advisory and curricular needs become better understood.
Meir, who is the program's acting chair while its academic director, Michael Weingrad, is on sabbatical, attributes the program's growth to its staff as well as support from the university.
"One thing we're very pleased about is the kind of good working relationships we have with a bunch of other departments," he said. "Because we're smaller, we've offered our courses under other departments' codes.
"A fantastic part of our growth has been having those connections with history and world languages and literature," Meir said. "Even as we become more self-sufficient, those partnerships are going to continue to be very important to us."
The program recently acquired its own office space for faculty and students after years of resorting to using whatever space could be found.
"Most of us were housed with the math department for the last two years," Meir said. "This is a good change for us."
With the program's substantial growth comes measured consideration of its future, with next steps coming into focus. "We're in the middle of discussing it right now," Meir said. "Let's just say we're trying to think as creatively as possible."