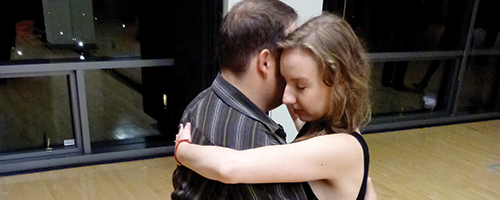 From funky hip-hop to sultry tango, Portland is a city for dancers
"We should consider every day lost on which we have not danced at least once," Friedrich Nietzsche once said. Fortunately, Portland is a dancer's paradise, offering so many options that dancing only once a day seems ludicrous. But whether you're a seasoned dancer or an established wallflower, Portland State's dance clubs will help you get your groove on at least once a week.
Tango
Portland has one of the largest tango scenes in North America. With tango events available every night of the week, there is no reason not to try this beautiful dance. "I feel spoiled, actually," said Katie Quick, president of PSU's tango club and Vanguard staff writer. Every Tuesday at 8 p.m. in room 440/441 of the Academic and Student Rec Center, dozens of students meet to learn the tango.
No dance experience or partner is required; the tango club's classically trained instructors start with the basics. After the hour-long lesson, students are welcome to stay and practice to disc jockey-provided tango music until 11 p.m. The goal of the club is to help students connect so they can take their freshly mastered ochos and boleos to the social dance floor at one of Portland's many tango clubs. Joining the club costs $10 for the year.
For more information email [email protected]
Electro dance
"Electro is a melting pot of dances," said Isaac Camacho, founder of PSU's electro dance club and member of the High Voltage Krew, a local electro dance team. An underground form of street dance, electro evolved from a European dance style called Tecktonik.
What you'll find at the electro dance club at PSU is a mix of popping, waving, tutting, pop-rocking and hip-hop, taught with a welcoming attitude and encouragement to just have fun. Now in its second year, the electro club meets every Tuesday from 8:30–10:30 p.m. in room 430 of the Rec Center.
For more information email [email protected]
---
Places off campus where you can dance the night away
Tuesday Blues
Blues dancing is the abandoned love child of swing, tango and waltz, left to slowly walk a desert highway on a starry night. It's slow and groovy, and will melt your cares away like butter in a microwave.
Lenora's Room, 615 SE Alder St.
9 p.m.–1 a.m.
$6 (includes beginner's lesson at 8:30 p.m.)
Every Tuesday
www.pdxblues.com
Wednesday Tango
Hailed as the friendliest place to tango in Portland, Wednesday Tango at Norse Hall is the perfect place to practice the moves you've learned in Tango Club. They play a mix of music, from traditional tango to rock and funk, inspiring dancers to be creative and playful.
Norse Hall, 111 NE 11th Ave.
8:30 p.m.–12:00 a.m. (lesson at 7:30 p.m.)
$7 ($8 with lesson; $6 students)Every Wednesday
www.wednesdaytango.com
Portland Lindy Society
Channel your inner hepcat and boogie on over to the Portland Police Athletic Association on Thursday nights for a swinging good time—Lindy Hop, Charleston, balboa, shag, East Coast, boogie-woogie—the Portland Lindy Society does it all.
PPAA, 618 SE Alder
8:30–11:00 p.m.
$6Every Thursday
Holocene
For those of you who prefer more of a club vibe, check out the calendar at Holocene. This is a unique nightclub that hosts everything from huge dance parties to art shows (that ultimately turn into dance parties). Most events are 21 and up.
1001 SE Morrison St.
See calendar
Price varies
holocene.org
If those aren't enough options, check out Portland Dancing, a website that compiles all the dance opportunities the city has to offer. From contra to zydeco, Portland Dancing will tell you when and where you can get your groove on: portlanddancing.com.