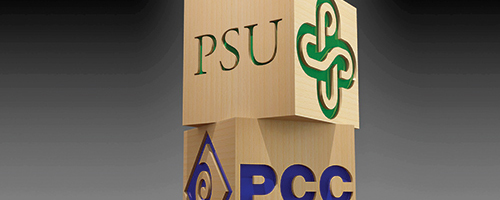 Why co-enrollment is co-ol
Are you the kind of person who pays $6 for a box of Froot Loops when you can get the same exact product, minus the toucan, for $1.99? If so, you should take the shuttle bus to Portland Community College's Sylvania campus and enroll in Dr. Jonathon Wolf's Economics 201 class.
College is expensive, but co-enrollment is a simple way to potentially halve your tuition bill by removing the fancy "university" label without compromising the quality of your education.
I'm a co-enrolled student. This means I take courses at both PSU and PCC, and the credits from both schools apply to the same transcript and financial aid. I can take the free shuttle to classes at any of PCC's three main campuses or even take a cornucopia of classes online while still studying in the honors college here at PSU.
Forget the stereotype that community college is for old people and stoners. I get more out of my PCC classes than those at PSU. Class sizes are typically smaller, and everyone, from soccer moms to honor students, shares the same space.
Courses at PCC cost about half of those at PSU and carry drastically lower fees. My four-credit German 201 course cost me $371.80, all fees included. The same course taught by an equally qualified instructor would cost me $734 at PSU.
Since PCC is only a two-year institution, it only offers lower-division 100 and 200 level courses. They're exactly the same as what you'd get by paying PSU $182 (plus fees) per credit, but for half the price. At the end of the term, all I've got to do is request that PCC send PSU my transcript, and I'm that much closer to my undergrad degree.
If you don't feel like taking the free shuttle, which only takes about 15 minutes to get to the Sylvania campus, you can try one of PCC's online courses. PCC uses the same Desire2Learn program that PSU employs, without making you pay the extra couple hundred dollars that PSU squeezes out of you in "online course fees."
Financial aid applies to both schools if you go through two steps: choosing courses that are offered at both schools, and signing an extra form telling the Office of Admissions that you're also taking courses at another institution. PSU will look over the courses and include them in your records.
If you're only taking eight credits at the university and four at the community college, you'll still be considered a full-time student for financial aid, as well as for other purposes.
Dual enrollment is a great compromise between starting your first two years at a community college and diving straight into the university experience.
You'll expand your options when it comes to course selection, and have access to additional libraries, computer labs and tutors while maintaining your access to those offered by PSU. You'll still be eligible to live on campus, use the Academic and Student Rec Center and buy the school-offered health insurance, provided you enroll in the minimum credit load.
PSU has dual-enrollment agreements with almost every community college in the state, so you're not limited in options. Get your pre-reqs out of the way and save some money. With tuition rising, every penny counts.