A vibrant community of fighters is growing in Portland State's kickboxing club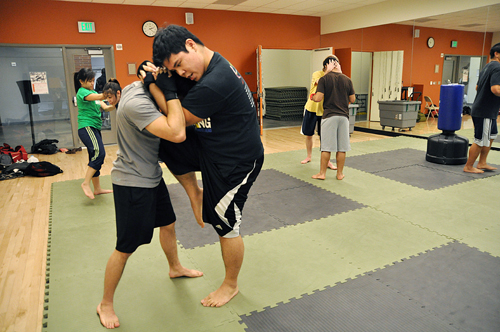 It's a Friday afternoon. Students throng the MAX station at the intersection of 6th Avenue and Montgomery Street. Four stories above the crowd, students in a padded athletics room in the student Rec Center are grappling for purchase and bringing each other down with floor-shaking slams.
This is the Portland State Kickboxing Club in action. About two dozen students clustered around in old athletic wear and primary-colored pads take turns working on the mats. Experienced students demonstrate techniques while beginners and intermediate martial artists stand back and watch.
"Most of the people we get pretty much just see us practicing and come into the gym," club president Andrew Preller said. "When people see us practicing in the gym, they're usually pretty interested. It's not every day you walk past this room and see people with boxing gloves on hitting each other."
Preller said the club started out focusing mostly on kickboxing and Muay Thai, but expanded to include Taekwondo, Brazilian jiu jutsu, Thai kickboxing, wrestling and grappling.
Arunee Sengchanh joined the club at the start of winter quarter. She came in with five years experience in Taekwondo, but said the club is still teaching her a lot.
"With Taekwondo, it's Olympic style fighting," she said. "Coming here, it's about real life application. Where Taekwondo is more of a sport, where you're trying to get points, here you're actually trying to take someone out or take someone down."
The club wasn't always as vibrant as it is now. When Preller joined kickboxing club in fall of 2010, the club, already one of few martial arts organizations at PSU, was on the rocks.
"It was like three or four people who got together in this room, once or twice a week, and we had no coach really, no plans, no practices," he said. "We kind of did whatever we wanted… and then [the club president] wanted to disband the club and have us all move out to somewhere else and go to gyms around Portland, and I decided that I would rather see if I could revice the club and stuck it out here."
The club is open to people of all skill levels. Sengchchanh said her interest was peaked when she walked by a practice.
"I was walking through the Rec Center and I happened to walk past this room and it looked interesting," she said. "I only saw one girl and I was like, 'Well what's going on here?' It really sparked my interest."
Sengchanh said she thought more girls should try out for kickboxing club.
"It's something that's good to know. You never know what kinds of situations, as a girl, you can end up getting yourself in to. This stuff you can apply to real life."
The kickboxing club comes together for practices three times a week in ASRC 430. They will be putting together tournaments and other activities as the quarter goes on. Their first club tournament is March 3 at noon, and will focus on grappling. More information can be found on the club's website at the Portland State Rec Center page.