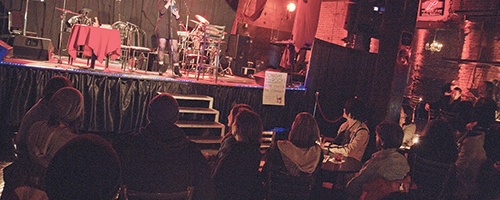 "If you want to make an audience laugh, you dress a man up like an old lady and push her down the stairs. If you want to make comedy writers laugh, you push an actual old lady down the stairs." —Tina Fey
I dabbled in standup comedy as part of my early college experience—I was approaching my 30s and used my first three years of school for soul-searching. It turned into a gig writing and performing sketch comedy with local comedians.
When most people mention comedy in Portland, they usually think of Helium Comedy Club, Harvey's Comedy Club or Curious Comedy Theater. But what about other venues that host comedy events?
I talked to three of my comedian colleagues about what they're up to right now, to give Portland State a glimpse into the always changing comedy world.
Al's Den and The Ed Forman Show
303 SW 12th Ave.
Friday–Saturday, 10:30 p.m.–12:30 a.m.
I performed sketch comedy for The Ed Forman Show (a live-comedy talk show) last year, and it was such a high sharing the stage with Aaron Ross (Ed Forman). He always instinctively knew what the audience wanted, and it was contagious.
It didn't matter when we went off script or screwed up because everyone on stage was in sync. Maybe it's because Ross is usually the only actor in his shows.
Ross, a Portland State graduate of communication studies, is the stripper-loving Ed Forman, sardonic host of The Ed Forman Show. His twisted late-night comedy resides downtown at Al's Den, the basement club under the Crystal Hotel.
The show is free, drinks are reasonably priced and the energy is always raw.
"Because it's located in a hotel, we get some different people all the time—a wide variety of ages from different places," Ross said in an email. "[It] helps expand the show, and when we kill it for 60–70 new people a night, it is a real badge of honor—lets us know we got something here."
Ross is currently unveiling new characters, namely Bob Ross' brother Rob Ross as host of The Joy of Felt Penning, and, illustrating his pun-mastery, the Compliment Fisherman. (He said it's exactly what it sounds like.)
Ross explained why the live comedy experience is so unique and worth checking out.
"Being in a live audience, grabbing a drink, a date, and being a part of a show is nothing you get sitting at your fucking laptop. The end."
The Ed Forman Show celebrated its 400th performance during the week of March 7.
Catch The Ed Forman Show every Thursday–Saturday at Al's Den.
Tonic Lounge with Whitney Streed
3100 NE Sandy Blvd.
Wednesday night, doors at 9 p.m., show at 9:30 p.m.
Whitney Streed is one of the most brilliant sketch-comedy writers in Portland. We wrote and performed several sketches together for the now-defunct Chuck N Buck Show at Dante's. We ended up oil-wrestling after a Thanksgiving protest for our last sketch together.
Whenever I was stumped on a line or a punch, she always knew exactly where to take the joke.
Streed, who also writes and performs for Tonight on the Rocks (Chuck N Buck's replacement), hosts the Weekly Recurring Humor Night every Wednesday at Tonic Lounge. The night is a stand-up comedy showcase followed by an open mike.
"We're coming up on the two-year anniversary," Streed said in an email. "Every week it's great local comedy plus more and more folks from out of town, including folks in town working at the local clubs."
Before the humor night series, Streed worked on a burlesque show called Hangover Helper with Frankie Tease, but it wasn't sustainable.
Tonic's owners invited her to host a comedy show, and it's gaining more recognition: Some of the performers have appeared on Portlandia and at Bridgetown Comedy Festival.
"I love all of it. I love putting together the shows, I love seeing comics improve and grow," Streed said. "I love hosting it and having it feel like my space. It pleases me deeply."
Witness the hilarious brilliance of Streed every Wednesday night at Tonic Lounge.
Tonight on the Rocks with Richie Stratton at Dante's
1 SW Third Ave.
Tuesday nights, stand-up at 8 p.m., improv at 10 p.m.
This guy can flat-out do anything. Richie Stratton and I also worked together on the Chuck N Buck Show, and he just stole the audience every time.
His famed character, Dr. Science, stunned everyone with his perverse naivete—he somehow coherently combined pornographic themes with complicated physics.
He's on fire as a standup, too, as the kind of comedian who makes you want to get onstage but also stops you from doing it because you know you won't be as good as he is.
Now he hosts Tonight on the Rocks at Dante's, a zany, live, late-night sketch comedy show with a big cast of characters.
"We have so many talented writers in town," Stratton said in an email. "I wanted to showcase a collaborative effort with people I think are funny, and create a show I'm proud to be a part of."
Stratton's strategy is to have his cast constantly interrupt him. He said he wants controlled chaos onstage.
"I have a few crazy ideas we're playing around with, like me interviewing someone while I wear a steak and have dogs a foot away on leashes," Stratton said. "I've been trying to make the interviews interesting. We did one where the guest and I ate a Habanero pepper [and] then did the interview."
Stratton said he's planning to get his tongue pierced on stage and will interview a guest immediately after.
See Stratten's genius for yourself at Dante's every Tuesday night.