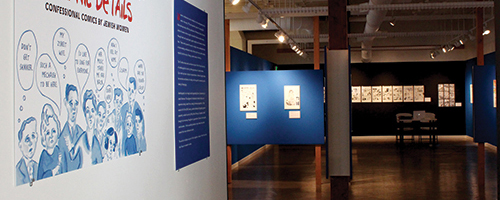 The Oregon Jewish Museum sets the stage for female comics
Among the multitude of reactions one can have to art, a tear of laughter can be as powerful as a tear of sorrow.
From Oct. 17 to Feb. 17 the Oregon Jewish Museum will host the long-running exhibition, "Graphic Details: Confessional Comics by Jewish Women." This event, having been displayed in museums from San Francisco to New York, showcases the diversity of an often-overlooked group of artists while giving a voice to their lives in a creative, funny manner.
"Graphic Details" was conceived when Sarah Lightman, an English graphic artist, saw an article about autobiographical art by Jewish women. She contacted its writer, Michael Kaminer, and together they turned paper into project.
"It kind of turned into a life of its own from there," Kaminer said. "The message of the project is really about the artists. I think the women in the show deserve massive attention and acclaim."
Lightman says that once they began searching for artists to put into the exposition, the requests came pouring in; five artists became 18 in a very short time.
"Its amazing how it fell into place," Lightman said. "I'd been drawing for 10–15 years and never had the opportunity to meet people who did similar work, and seeing Michael's article I thought, 'Wow, that's the stuff I'm interested in.'"
The art featured in "Graphic Details" is largely autobiographical. In a comic-centered culture mostly participated in and controlled by men, the women are able to use their unique experiences to create a new twist on graphic art. The 29 featured pieces focus on vulnerability, strength, love and life in general for the artists.
"Divorce, miscarriages, domestic violence: These are experiences common to many women," Lightman said. "It's kind of a fringe art group, but maybe people feel like it's a protected space where they can tell their stories."
In addition to gender identity, the artists' religious and ethnic connection are other facets of their work. Famous Jewish comics such as Woody Allen and Joan Rivers are known for their raw observational humor, and "Graphic Details" succeeds in giving a stronger voice to those who wish to follow similar paths.
"Because the thread is their Jewishness, it's also been fascinating to explore how this all fits into a larger cultural narrative," Kaminer said. "It's a privilege for me to help bring their work to an even wider audience and to showcase their amazing art and points of view."
"When I think of Joan Rivers with her generally dysfunctional humor, it's rather like a tradition for Jewish women's humor. Some of it is very sad, but also funny, and you see the genius in it," Lightman said.
Portland Jewish Museum presents
"Graphic Details: Confessional Comics by Jewish Women"
Oct. 17, 2012–Feb. 17, 2013
1953 NW Kearney St.
$6 adults; $4 students
Another element that sets the exhibition apart is the simple act of putting comics and graphic novels, long considered separate from fine art, into a museum and showcasing it as such. Comics are generally given space on the back of newspapers, not elegantly displayed alongside a Van Gogh. Portland has gained a reputation for supporting unique artists, and for Kaminer and Lightman, the Rose City is a good place to set up shop.
"The creative community in Portland is so vibrant, and there's a comics scene that's really energetic. The Oregon Jewish Museum did a beautiful job of mounting the show," Kaminer said.
"We also got an enormous amount of press here," Lightman said. "Everyone was saying, 'Why has no one made this expo before?' It's very exciting."
In addition to graphic art, visitors to the gallery will be able to see some original sketches and prints by the artists. Kaminer and Lightman wanted to lend an air of authenticity to the project by inviting dialogue over the definition of fine art.
"One thing I really want people to know is that comics aren't considered fine art, but you see the original drawings and they are just so beautiful," Lightman said. "You say, 'Wow, this really is art!'"