PSU Middle East Studies Center to screen Turkish love story
Maybe love has less to do with fate and more to do with coincidence. Love: Just a Coincidence (2011) is a Turkish film that explores the role of coincidence in the romance of two artists whose lives are intertwined by a string of random events.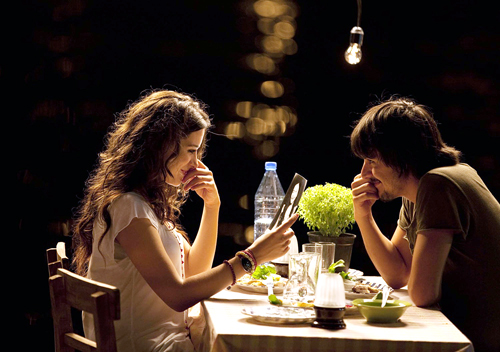 The film will show this Saturday at 5th Avenue Cinema as part of the Middle East Studies Center's ongoing film series. The screening will feature an introduction by Pelin Basci, associate professor of Turkish language and literature at PSU Portland State.
Directed by Ömer Faruk Sorak, Love: Just a Coincidence tells the story of Özgür (Mehmet Günsür) and Deniz (Belçim Bilgin). In keeping with its theme, the film begins with a chance run-in as their parents' cars collide on the way to the hospital in their hometown of Ankara, Turkey.
The event leads to their first encounter as newborns and sets off a string of coincidences that continually bring them together during their childhoods. These coincidences reshape their lives time and time again. Years later, they meet again as adults in Istanbul.
Basci, an expert in Turkish literature and cultural studies, recommended Love as a sample of popular film from the region. She described the film as "an unabashedly popular Turkish film" and credits it for its subtle message.
"Love: Just a Coincidence is not just an entertaining romantic movie. It also manages to make a few humble points," Basci said. "It seems to suggest that true love requires soul-searching rather than fulfilling middle-class expectations."
Basci will introduce the film Saturday and briefly explain its cultural context. As a professor in the Department of World Languages and Literature, she pointed out Turkey's unique position of cultural connection between Europe and the Middle East, both historically and today.
"I feel that Turkey is a perfect example of how multiple origins and even tensions can germinate rich layers of cultural and artistic production," she said. "A simple look at the map will illustrate that this is simultaneously an eastern Mediterranean, Balkan and Black Sea country."
She added that the viewer won't see all of this in the film, but glimpses of it are certainly visible.
"It is a light-hearted romantic comedy that will expose the audience to some of the culture of Turkey—perfect for a Saturday night!" said Elisheva Cohen, outreach coordinator of the Middle East Studies Center.
The Middle East Studies Center presents
Love: Just a Coincidence (2011)
Saturday, April 287 p.m.
5th Avenue Cinema
Free and open to the public