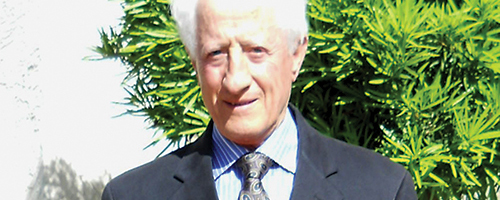 Hamou Amirouche gives firsthand account at PSU
From 1954 to 1962 the country of Algeria, then colonized, fought France for its independence. In 1962, Algeria gained their freedom. Now, 50 years later, Hamou Amirouche, a former lieutenant and freedom fighter in the war, will visit Portland State and give his firsthand account on the war and his experiences.
The Middle East Studies Center and the Portland Center for Public Humanities present
"Memoirs of a Mujaheed and thoughts on Algeria today": a panel discussion
Thursday, Oct. 25, 7 p.m.
Smith Memorial Student Union, room 294
Free and open to the public
In honor of the 50th anniversary of Algerian independence, the Middle East Studies Center and the Portland Center for Public Humanities will hold the first of three panel discussions, titled "Memoirs of a Mujaheed and Thoughts on Algeria Today." In his lecture, Amirouche will discuss the war and his book, Akfadou: Un An Avec le Colonel
Amirouche, which describes his experience as a freedom fighter for Algeria. The book has become a bestseller in that country.
Afterward, PSU assistant professor of political science Lindsey Benstead and Oregon State University associate professor of French and Francophone Studies Nabil Boudraa will join the panel to discuss contemporary Algerian politics.
Benstead, who has taken eight trips to Algeria and studied the country extensively, described the things she saw in the aftermath of the nation's civil war.
"In Algeria, five years ago, the infrastructure was quite broken from the very devastating civil war that took the lives of approximately 200,000 people," Benstead said. "It was a terribly violent time, and people were stopped at police barricades and murdered. It was a time where people were living in fear."
Boudraa grew up and got his bachelor's degree in Algeria. He noted that the more recent conflict left Algeria with the choice to rebuild as well.
"What I can say is that Algeria is trying to find its place into this world," Boudraa said. "With everything that's going on—the Arab Spring, democracy and so on—it's trying to find its voice. Algeria is between socialism and globalization, tradition and modernity—it's between a very difficult task of decolonization and hope and success."
Benstead urged people to attend the event because of the opportunity and uniqueness of having history revealed from a personal perspective.
"I think it's a very rare opportunity to hear someone who was personally involved in the revolutionary war," Benstead said. "Amirouche has been in the government of Algeria, and he's someone who is very knowledgeable in the present as well as the past dynamics of the country."
Boudraa agrees that having another perspective to history is beneficial and serves a purpose.
"The entire history of the Algerian war has many versions. One is the Algerian political party's version of the war…and then you have the reading of the history, and then you have history written by foreigner historians,"
Boudraa said. "But this one, here, comes from a person, a firsthand account of that history. He was at the heart of it. It makes you feel closer to the events of the war and understanding what is happening in Algeria today."
The collaborative panel, with Amirouche, Boudraa and Benstead, will give the audience the nessecary information to better understand Amirouche's memoirs and modern Alergia.
"I hope that the audience walks away with a better understanding of the Algerian war of independence and with both an understanding of [Amirouche's] personal experience and how fighting in the war impacted him, but on a larger scale, how the war has impacted contemporary politics," said Elisheva Cohen, outreach coordinator for the MESC. "Algeria isn't talked about very often, so I think raising awareness of what is going on in Algeria is something important."