Professor from Turkish university to discuss Islam's connection to Japan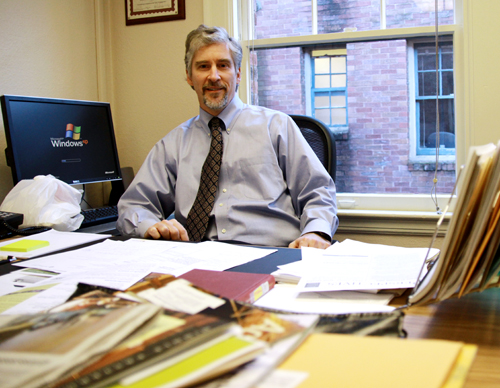 Why did the Islamic world during the 19th and 20th centuries have an eye on Japan?
Dr. Ayşe Selçuk Esenbel of Turkey's Bogaziçi University will discuss the history between Islam and Japan in tomorrow's on-campus lecture, titled "Japan's Global Claim to Islam: Transnational Nationalism & World Power 1900–1945."
"By late 19th and early 20th centuries, there are some interesting discussions going on about creating a new Islam, a modern Islam," said James Grehan, director of the Middle East Studies Center. "What interests them about the Japanese model is that they seem to be creating their own modernity, not a carbon copy of the West."
Japan was the first non-white and non-Christian nation to modernize, according to Ken Ruoff, director of the Center for Japanese Studies.
"This is announced to the world in spectacular fashion when Japan defeats Russia in the Russo-Japanese war of 1904," Ruoff explained. "Thereafter, Japan becomes a very interesting model for Muslim intellectuals around the world."
Ruoff said that Japan was particularly interesting because it had "modernized without giving up its soul. Especially since, at the time, there are many Euro-Americans who were saying that modernity belongs only to whites and Christians. Japan was clearly the first country to come along and say that modernity belongs to the world."
Esenbel's lecture will touch on the Pan-Asianist global vision of Japanese nationalism.
"[It] adopted the cause of Asian liberation from Western empires and linked with Asian anti-colonial activism against the British-Dutch empires," Esenbel said. "It is a case of trans-nationality in the history of nationalism, linking Japan to other regions in Asia and beyond."
Grehan praised Esenbel's work.
"She has been a pioneer in these debates about transnational history, particularly the transnational histories of movements and ideas circulating outside the West," Grehan said. "It's the sort of scholarship that we don't find very often, so we're very fortunate that she was willing and able to come."
"Here we have arguably Turkey's top scholar of Japan, and she provides a perspective on Japanese history coming from a third-party view," Ruoff said. "She's not from Japan, and she's not from the U.S.; she's someone from an entirely different country and coming at it from a particular perspective."
Esenbel said that the lecture represents her long years of research since the 1980s, research that pioneered the topic in modern Japanese history studies in Japan and the United States and the less-known aspect of Japanese pre-war history."
"What's so interesting about this particular version is that it circumvents the West. It relegates the West to the margins," Grehan said. "Outside the western world, there were very interesting discussions going on between different regions, without necessarily being mediated by contact with the West."
Ruoff stressed that this examination of transnational history is relevant to contemporary issues of national identity.
"The fundamental issue of how you become modern without losing your national identity is a question on the minds of people throughout the world today. The last few years have seen a particularly intense discussion about the American identity with vitriolic debates about subjects such as immigration, about whether we are a Christian nation or not," Ruoff said. "How does the U.S. continue to exist and compete in an increasingly globalized world, and what does it mean to be American? Are we going to stop being a country of immigrants, for example?"
Grehan agreed.
"The late 19th and early 20th centuries saw a huge, unprecedented acceleration of connections and exchanges between different parts of the globe," Grehan said. "We, too, have been living in our own age of globalization. Thanks to new technologies, people from different parts of the world are now increasingly aware of each other, which produced its own unforeseen cultural consequences."
Modern history is truly global, according to Grehan.
"There are all sorts of connections that you can't necessarily see from our vantage point. We're connected now in ways that don't run necessarily through the center of power and wealth," Grehan said. "If you live in a country like the United States, it's very easy to pick up a paper or turn on the TV and hear a lot about America. And here's a way of getting to history that's beyond our shores, beyond our usual perspectives."
The Middle East Studies Center and the Center for Japanese Studies present:
"Japan's Global Claim to Islam: Transnational Nationalism & World Power 1900–1945,"a lecture by Dr. Selçuk Esenbel.
Wednesday, Jan. 18, 7 p.m.
Smith Memorial Student Union, room 238
Free and open to the public