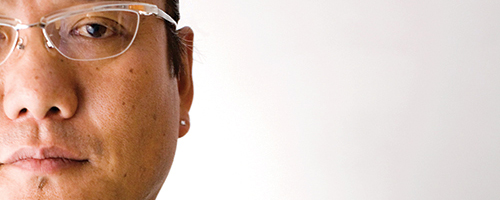 TV producer discusses Iron Chef's influence on television
"There are only three countries in the world that truly exert global influence at the level of popular culture," said Ken Ruoff, director of the Center for Japanese Studies at PSU. "One is the United Kingdom, another is the U.S., but curiously enough, the third one is Japan."
On Oct. 18, the center will hold a free lecture focused on the influence of Japanese television programming on the United States. Brant Reiter, television producer and senior manager at Fujisankei Communications International, will discuss both the impact Japanese shows have had worldwide and how the shows have been adapted for specific cultures. His lecture, titled "The Global Reach of Japanese Popular Culture and the Influence of Iron Chef on American TV Programming," will address the many aspects of programming.
"Iron Chef is just one example of the many ways that Japanese popular culture is influential worldwide," Ruoff said. "It's no exaggeration that the Iron Chef has spawned a new generation of cooking shows which are entirely derived from it."
Ruoff emphasized the importance of Iron Chef as the first show to combine competition with cooking; it had never been done before. Now, he explained, there are a variety of spin-offs here in the U.S., from Cupcake Wars to Hell's Kitchen, all of which owe tribute to the Japanese original.
"Iron Chef was entirely original. To have competitive cooking matches and to have an announcer give a play-by-play, people were just stunned," Ruoff said. "In a way, many Americans may not even be entirely familiar with the cultural impact. There's a whole bunch of shows that date back to this Japanese show which was so clever and revolutionary in its own way."
Reiter explains that Iron Chef is just the tip of the iceberg of Japan's influential media. Many shows America has adapted as their own derive from this and many other countries. This process, called "formatting," takes local versions of different shows from around the world and reformats them to fit easily in other parts of the world, giving local meaning to the show in any specific country.
"A lot of really popular shows that people don't even realize started in Japan—shows like America's Funniest Home Videos, Shark Tank and shows on MTV—you wouldn't know that they're Japanese shows," Reiter said. "There are huge American TV shows that originated from other countries. American Idol came from England. Big Brother came from the Netherlands. International formats are a staple in American programming."
Not only will Reiter be speaking about the impact Japanese culture has had on individual television programs, he will also analyze the topic from a broader, professional perspective. Having worked in the television production business for roughly 30 years, this is his area of expertise.
"I'm going to give them information that they just can't find on Wikipedia—a television programming insider's experience," he said. "I'm going to show people our actual sales materials that they can use to conceptualize and sell a format and how it's done. If anyone is interested at all in the business of television I think I can give some pretty good insights."
The Center for Japanese Studies presents
The Global Reach of Japanese Popular Culture and the Influence of Iron Chef on American TV Programming: A lecture by Brant Reiter
Thursday, Oct. 18, 7 p.m.
PSU Multicultural Center, Smith Memorial Student Union, room 228
Free and open to the public
These insights, according to Ruoff, are important not only in the sense of understanding the business of television, but also because of the knowledge it will impart about the increasing connectedness between culture and market.
"I think that this particular topic speaks first and foremost that we live in a globalized hybrid world. Taking for example these cooking shows, which act as if they were American but have been derived from the Iron Chef model," Ruoff said. "They move through the world with tremendous rapidity, so it just speaks to an increasingly globalized world in the area of culture, not just in the area of economics and finance."