Ancient Egypt: a place of god-kings, monolithic temples and the mysterious pyramids. Who would have thought that the answers to some of its most puzzling questions might be found in the water?
"Water is this one fundamental thing that all human beings have to learn to get along with or control," said Dr. Pearce Paul Creasman, assistant professor of dendrochronology at the University of Arizona and scholar of maritime archeology. "Water is this thing with which we are intimately related. So this concept of studying the water in ancient Egypt, of studying the interaction of life on or near the water, always made a lot of sense to me."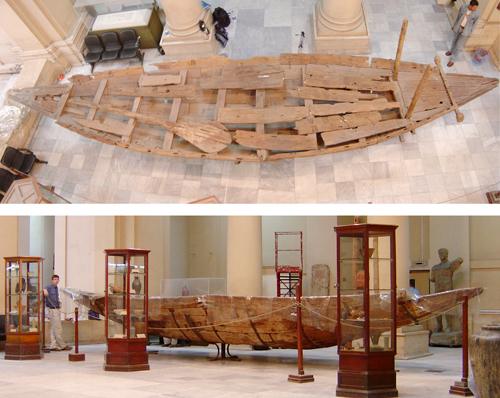 Creasman will visit PSU Thursday, Aug. 9, to speak about his studies of ancient Egyptians' use of water as a tool for transportation, trade and warfare. The lecture, titled "What Maritime Archeology Reveals about Ancient Egypt," will feature examples and anecdotes, as well as a slide show exhibiting Creasman's field work on the subject.
"Most of the time, when people think about Egypt, a few things come to mind: King Tut, Nefertiti or the pyramids," Creasman said. "But all of those things were facilitated by the Egyptians' ability to harness things like the Nile."
The Nile River, the longest running river in the world, formed the life source for ancient Egyptians. They were able to move materials across vast distances by sailing its waters, and Creasman pointed to evidence suggesting that ancient people could at one time sail directly to the site of the pyramids.
But the river also presented challenges. The Egyptians coped with annual flooding and other adversities, and they ultimately learned how to manage and even master their resource.
"The water of the Nile flows one way, but the winds blow the opposite way," Creasman explained. "Once you learn how to harness the wind and essentially float, it's a game changer. It allows you to go up and down the Nile effectively and efficiently, and really have access to everything on both ends of the river."
Creasman's work regularly carries him to Egypt, which he visits annually as part of his field studies. He also travels to other cities across the country and abroad to study Egyptian artifacts, which are scattered across the globe at various museums and other institutions.
Additionally, Creasman studies dendrochronology—the research of tree rings. He hopes to apply his knowledge of tree rings to his work in Egypt by determining the relative age of various finds, such as ancient ships.
"One of my hopes is to start using tree rings and wooden artifacts from Egypt to help us understand history and time better there," he said. "The tree ring has the really unique ability to give us incredible accuracy in understanding time and events, and all of these other sorts of environmental components in a time."
For many, ancient Egypt conjures distinct images of monolithic landmarks, such as the pyramids and the Sphinx. Much of the research that goes into Egypt's past focuses on land-based works, but Creasman believes more can be learned about these subjects through a focus shifted seaward.
"There's so much really neat stuff to study on land in Egypt that we sometimes don't give the proper attention to the things that facilitated it," he said. "You see that in pretty much every field of study. You start out with the obvious things, like the pyramids, and then you start to wonder how they got there. Where did they get the skills to do this? Where did the materials come from?"
Creasman's visit to PSU was set up by the Oregon Chapter of the American Research Center in Egypt, a member-based group focused on hosting programs for those interested in ancient Egypt. B.J. Smith, vice president of the center's Oregon chapter, explained that their goal is to promote education about Egypt's cultural history in the United States and abroad.
"It's a national organization that really has a wide array of international members and supporters," she said. "It primarily looks at archeology, scholarship, training and conservation of the ancient resources of Egypt."
In addition to the center's work in Egypt, local chapters are spread throughout the United States. The chapters work with universities and other institutions, collaborating to bring reputable scholars to speak about their areas of expertise. Creasman, an affiliate of an Arizona-based chapter of the organization, is one such example.
"The research center brings Egypt and the ancient culture into our hands, in order to learn more about it," Smith said. "The chapter organizations within ARCE allow those of us that are interested in the literature, arts and scholarship of Egypt to have an opportunity to build programs of education and information in our local community."
Creasman's visit will provide a look at an ancient culture from a perspective removed from more conventional studies. That perspective, in his view, will help tell a more complete story about the people who have enriched our own ideas of ancient Egypt.
"Many of these materials were brought hundreds or thousands of miles downriver or across the sea," Creasman said. "Without learning how to master, or at least get along with and take advantage of what the Nile had to offer, I don't think we'd have an ancient Egypt as we perceive it today."