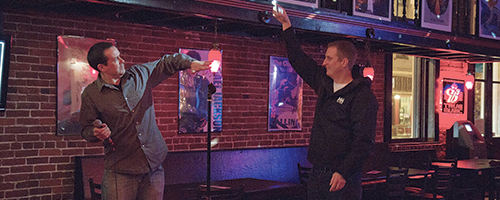 [portfolio_slideshow id=48093]
Looking for something to do on an otherwise quiet Friday night? Getting onstage and belting out an improvised verse or two is always a good time. Here are five of the best karaoke bars in Portland, guaranteed not to disappoint.
Alibi Restaurant and Lounge
A funky and unique place to go with friends, the Alibi is Portland's oldest tiki bar. The karaoke is in full swing, and the drinks are fun and fruity. The tacky tiki decor and island atmosphere is what this spot is all about. Featuring a wide variety of food options, from hamburgers to Hawaiian cuisine, the Alibi's got you covered.
4024 N Interstate Ave.
503-287-5335
alibiportland.com
The Boiler Room
Karaoke is on the agenda seven nights a week at the Boiler Room. This cool and quirky bar is known for its delicious drinks and enthusiastic performers. Get in early, because it gets crowded quickly. And don't worry about being alone out there—like-minded songsmiths never hesitate to join in. As with any karaoke venue, all levels of experience are welcome, so don't be shy. Get those choruses out of your system.

228 NW Davis St.
503-227-5441
boilerroomportland.com

Chopsticks III
The sister bar of Chopsticks Express on East Burnside, Chopsticks III is a popular hangout for aspiring Portland crooners. Come for the songs and stay for the tasty food and drinks served up all week long. With an extensive selection of music, you'll find just about any tune you're looking for. Get yourself a beverage and something to nibble on, and sing the night away.
535 NE Columbia Blvd.
503-283-3900
Suki's Bar and Grill
Suki's has yummy bar food, cheap drinks and a great karaoke stage, and is a common destination for Portland State students. The staff are as friendly as they come, and there's a large pool table for those who are too afraid to sing. If you're looking one of PDX's hidden karaoke treasures, head on over to Suki's.
2401 SW Fourth Ave.
503-226-1181
sukisbargrill.com
Voicebox Karaoke Lounge
The food and drink options are just a bonus at Voicebox: Music is the focus at this Hoyt Street hangout. Stage fright? You wont have to worry about that here—Voicebox has private rooms for you and your group of friends to sing the night away discreetly. They also have a comprehensive collection of specialty drinks and excellent happy hour prices. Make sure you call ahead on weekends if you want to reserve a space.
2112 NW Hoyt St.
503-303-8220
voiceboxpdx.com