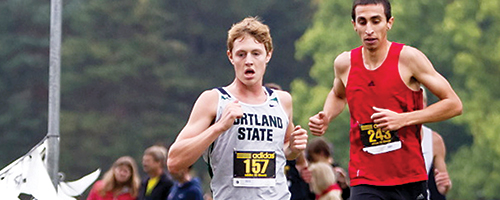 Cross country team has success at first two meets this season
New cross country head coach Jonathan Marcus has had success in his first two meets at Portland State, and he hopes it continues through his first season as a Viking.
The cross country team has raced at meets in Portland and Seattle so far this season, with a number of athletes reaching personal bests. The women are led by senior Amber Rozcicha, who finished eighth in the Pier Park Invitational and 10th at the Sundodger Invitational.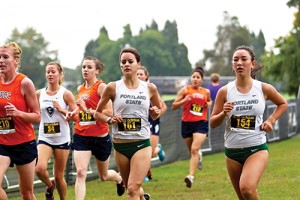 "It's going well. We've had a very exciting first two races," Marcus said. "The women are looking really good up front. We have two really strong competitors with Amber and Sarah [Hanchett]. They are our one-two punch. Then we have a nucleus of ladies behind them that are a hardworking bunch."
On the men's side, the team has been led by freshman Neil Seibert, who has had the best times for the Vikings in both meets.
"We're a young team," Marcus said. "A very young team. But that's the nucleus. Hopefully we build that young, youthful nucleus to become a championship-caliber program by the time they are upperclassmen."
It's still very early in the season, but it's not just the freshmen who are learning to adjust to PSU athletics. Marcus jumped right in as the new coach for this team.
Portland has not been a change for the new coach, who has lived in the area most of his life.
Marcus coached at the University of Portland for the last two years, where he was part of a program that was top 10 in the nation.
"Coming from a place where excellence is the standard, I plan on bringing that attitude here to the Park Blocks," Marcus said.
Marcus was born and raised in Portland and has been coaching here since 2006. He started at the high school level, and has slowly worked his way up to PSU. Being so accustomed to the area has made the adjustment that much easier.
"It's been hectic but very fluid," Marcus said. "I know the town inside and out. I know where to run. I know a lot of people. The community has been so warm and welcoming, and everyone is excited about the potential that this program and this school has."