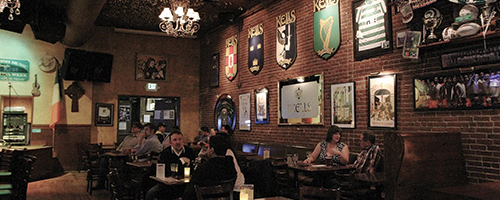 When I hear the term "Euro pub," my mind jumps to the image of a bearded old fellow in a delightfully rustic bar, a pint in hand and a barkeep who knows to keep 'em coming. I think of fish and chips, haggis and good beer.
Is that what they're like in the U.S.? I was asked to find out. And nothing says "intrepid journalism" like spending a weekday afternoon barhopping.
Euro pubs are a special sort of establishment. The common features in all those I visited were an extensive beer list, a comfortable atmosphere that combined old-world charm with modern luxuries and, of course, charming staff.
One disappointment: no "barkeeps" to speak of, but I'm pretty sure they only exist in the badly made European period movies I love so much.
Thirsty Lion Pub & Grill
71 SW Second Ave.
With an open atmosphere, a substantial beer list and an easy-to-navigate menu, the Thirsty Lion seemed quite promising. The service was good and the food tasted all right. However, I was surprised by just how local everything was. About 75 percent of the beers are from the Pacific Northwest. Additionally, the food portions were smaller than I expected. Very pleasant, but not really what I'd hoped for.
Atmosphere: 8/10
Food: 6/10
Drink menu: 7/10

Rose & Thistle Pub
2314 NE Broadway
My editor recommended the Rose & Thistle, so I dutifully checked it out. It has a good menu and a friendly atmosphere. It's got a Scottish feel to it, with the much-debated haggis offered as an appetizer. It also has a good selection of Scotch whisky, and you feel very European walking into its highly stylized entryway—complete with hanging sign.
Atmosphere: 8/10
Food: 7/10
Drink menu: 7/10
Kells Irish Restaurant and Pub
112 SW Second Ave.
Kells is a rather large, intimidating-looking place with a lot to offer. It has a welcoming atmosphere and a good (if expensive) beer menu. The food is all right, but my mother's Irish, so I might have some specific expectations when it comes to Irish fare. Take that part of the review with a grain of salt. The staff was friendly, if a little distant, and it was a comfortable place to grab a bite.

Atmosphere: 9/10
Food: 7/10
Drink menu: 7/10
Gustav's Bier Stube
5035 NE Sandy Blvd.
Walking into Gustav's was like getting a warm, loving hug from that high-functioning alcoholic uncle everyone has. I knew going in I was going to enjoy the food and that the beer was going to be worth the dehydration. The food was delicious; the beer menu was extensive; and the service was quick and full of pep.
Atmosphere: 9/10
Food: 8/10
Drink menu: 7/10