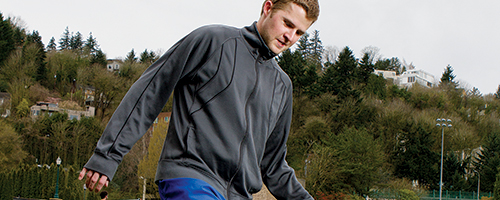 Men's soccer looks to win games and win fans
The Portland State men's soccer club recently completed tryouts, and they now prepare for their first match.
The team competes at the club level, meaning they travel and face other universities' club teams and not varsity teams. While winning on the field is the key in practice, winning over a fan base is the team's behind-the-scenes goal.
Club President Zach Kanner has made outreach the goal of his presidency and hopes that the work will lead to Portland State students attending the on-campus matches at Peter Stott Field.
"We'd really love for people to come out and support us," Kanner said. "OSU and U of O get a lot of support for their club teams, so it'd be awesome to rival them."
Head coach Jamey Berg said that although they play at club level, the team's performance should attract future fans.
"To get people interested we need to play an interesting style, to play an exciting style of play—some teams play a defensive style, just trying to win games, and I think we will play a much more technical style," Berg said.
The team will have nearly three full weeks of practice prior to their match against Southern Oregon, and their drive and focus is obvious.
"Southern Oregon's a lot bigger than we are; they're tall. Something we're going to try and work on is possession. They can't use their size to an advantage if they don't have contact with the ball," Kanner said.
Berg said that the team also needs to focus on athleticism, but while the talent is there, the team had less time to prepare for the season and will need to commit to ensure they are match-ready.
After placing fourth out of six teams last year, Kanner said this team is looking stronger than in seasons past: "I think this team can contend."
While the official season is now just in the fall term, the club's most prominent season was spring 2010, when the Capital Coed Soccer League played two official seasons annually. They face Southern Oregon at Stott Field Oct. 6 at 3 p.m.