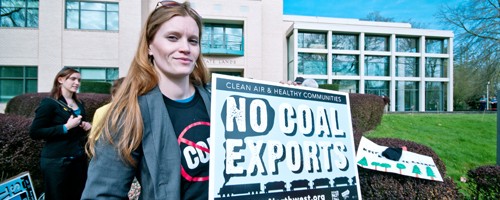 Strong opposition to coal trains bound for Oregon ports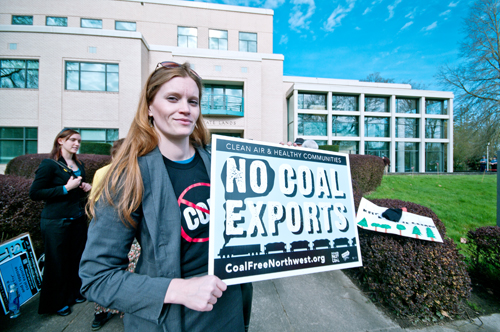 "That's why I moved here—to get away from big coal," said Carol Ross, a transplant to Oregon from West Virginia. "I watched as my home was destroyed by the coal industry." Ross and her husband moved to Oregon after their retirement to escape the "constant heartache of witnessing the decimation of Appalachia."
Ross is one of the approxi-mately 70 people who participated at an anti-coal-export rally last Monday, April 9 in Salem. Participants flocked to the capitol from around the state, including Portland, Eugene, Salem, Hood River and Coos Bay. Four women, billed as "The Corvallis Raging Grannies," capped off the rally with an anti-coal show tune.
Power Past Coal—a coalition of environmental groups, faithgroups and healthcare practitioners—organized a press conference after the rally, which took place outside the Department of State Lands building prior to its bi-monthly meeting. Some participants held signs, chanted "no coal exports," and wore face masks to draw attention to the myriad of air quality concerns posed by both the export and burning of coal.
Andy Harris of Physicians for Social Responsibility addressed the crowd, focusing on the potential health impact of coal trains traveling through Oregon communities. Harris mentioned increased rates of asthma, allergies, heart disease and lung cancer, plus exposure to toxic heavy metals, especially mercury, as threats from coal train traffic.
"My children lost their grandfather to lung cancer. He was not a smoker. He did, however, work in the coal industry all his life," said Katherine Moore of Salem.
Laura Stevens, field organizer for the Sierra Club's Beyond Coal Campaign, told the Salem crowd that over the past year, six new coal export facilities were proposed in Oregon and Washington. Companies, including PeabodyEnergy, Arch Coal and Ambre Energy, are seeking to ship up to 146 million tons of coal per year, primarily to China. "To put that in perspective," Stevens said, "Oregon's only coal plant, Boardman, burns 2–3 million tons of coal per year."
Additional speakers at the rally included Peter Cornelison from Friends of the ColumbiaGorge in Hood River, Duncan MacKenzie, an industrial designer from Rainier, and David Petrie, Coos Tribal member and director of Coos Waterkeeper.
Upon conclusion of the outdoor rally and press conference, attendees went inside to listen to the proceedings of the State Land Board. Protestors clad in "No Coal" shirts accounted for more than half the audience at the meeting. The board, comprised of Governor John Kitzhaber, Secretary of State Kate Brown and State Treasurer Ted Wheeler, did not address the issue of coal exports during its meeting.
According to the Power Past Coal coalition, the proposed terminals are cause for much concern. Of the issues mentioned at the rally, the impact of increased rail traffic on communities seemed of greatest concern. Increased congestion from the estimated 40 additional, mile-long freight trains per day will block rail crossings and disturb traffic flows, hinder emergency response time, slow freight transit and increase local air pollution from both the increased vehicular congestion and the trains themselves. Derailment potential is increased due to the additional train traffic, in large part because coal dust coating the rails is a hazard. Long-term health impacts, noise and decreased property values are also a concern to homeowners.
Laura Stevens expressed particular concern over the Coos Bay issue because, she said, the permitting process has been shrouded in secrecy. The Sierra Club reportedly attempted to purchase the public permits from the Port of Coos Bay, but $10,000 has resulted in access to only a portion of the document.
In addition to all the localized concerns about uncovered coal trains passing through Portland and other Oregon communities, rally attendees didn't overlook the issue of climate change. As one rally attendee, Sarah Conolly of Salem, said, "I can't get over the irony that the U.S. has deemed this quantity of coal too dirty to burn here…so we'll ship it to China for them to burn! It's all one interconnected atmosphere. Burning this much dirty coal in any corner of the world expedites the effects of climate change."